Chicken with Thyme, Lemon and White Wine
Chicken with Thyme, Lemon and White Wine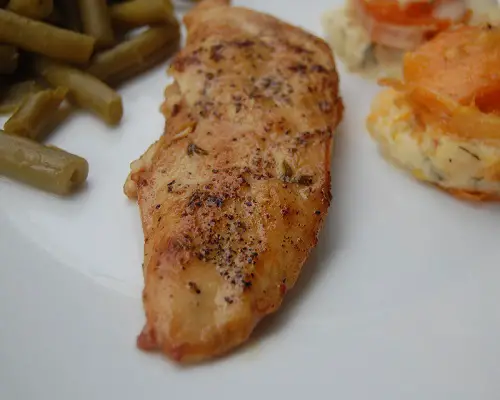 Ingredients
4 boneless skinless chicken breast halves
Salt and pepper to taste
3 tablespoons butter
4 sprigs fresh thyme
1/2 cup white wine
1 cup chicken stock
Juice of 1 lemon
Direction
Heat the butter in a large skillet over medium-high heat. Strip the leaves from the thyme sprigs. Add the thyme leaves to the melted butter and let them cook for a few minutes until fragrant.
Season the chicken with salt and pepper and add to the skillet. Cook, turning once, until browned and cooked through. Remove to a plate, cover with foil, and keep warm.
To the same skillet you used for the chicken, add the white wine. Let it reduce, scraping the bottom of the skillet with a wooden spoon to pick up any browned bits. After the wine is reduced, add the chicken stock and bring it to a bubble. Reduce the heat and return the chicken to the pan. Let it cook for a few more minutes in the sauce.
Just before serving, squirt the lemon juice over the skillet.