Chocolate Almond Biscotti
Chocolate Almond Biscotti
By
Clara's Kitchen
*****

Clara Cannucciari aka "Everybody's Favorite YouTube Grandmother,"
shares her Wisdom, Memories and her special Chocolate Almond Biscotti recipe!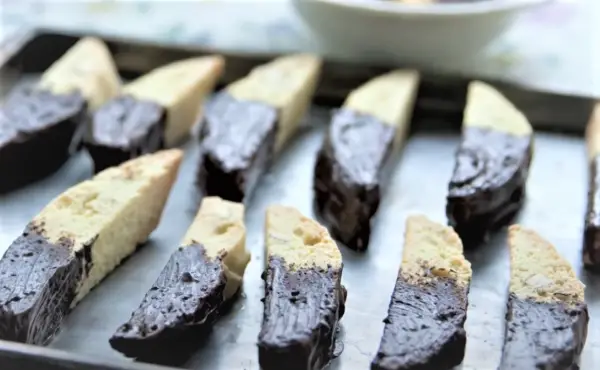 Chocolate Almond Biscotti – Clara's Kitchen
 Born on August 18, 1915 In Chicago, Illinois,
She passed away peacefully on on November 29, 2013.
Clara is dearly missed by her family and the many fans
she has acquired from her online cooking show, Great Depression Cooking.
During the depression, there were no gifts or celebrations at all for the holidays,
it was all about family being together.
Clara always found a way to make something special, like her biscotti.
She looked forward to adding chocolate to her biscotti.
Over the years Clara imparted her Great Depression experiences
to her grandchildren as she cooked meals from the era.
The meals were simple and delicious.
The stories were a mixture of misfortune and comedy.
​Courtesy Of The Philadelphia Inquirer
The magic of Clara is that she can turn lemons into lemonade.
She had a childhood that most of us can't imagine,
but she was able to make the best of it
and turn those trials into lessons we can all learn from.
Chocolate Almond Biscotti Recipe
By Clara Cannucciari
Makes 3 Dozen
Ingredients For Cookie Dough
2 cups all purpose flour
3/4 cup sugar
1/4 teaspoon salt
1/4 teaspoon ground cinnamon
1 tablespoon vegetable oil
3 large eggs
1/4 cup shelled almonds, chopped
Helpful Hints by Clara:
Whole almonds are nice, but chopping them makes them go further.
If the dough looks sticky, add a little more flour.
The Chocolate Glaze makes the cookies extra special
Chocolate Glaze Ingredients
1/2 cup condensed milk (fresh if you prefer)
1/4 teaspoon sugar
2 tablespoons cocoa powder
1 tablespoon butter, melted
Instructions
Pre-heat the oven to 375 F.
Add all of the dough ingredients in a large bowl and mix well.
Place them on a baking tray long and 1 inch tall.
Bake for about 15 – 20 minutes.
Cut into slices and turn slices on their side on baking tray.
Lower oven heat to 300 F.
Bake for an addition 8 – 10 minutes.
Remove from oven, flip slices over and bake for an additional 8 – 10 minutes.

While the cookies are cooling, in a pan on low temperature on the stove top.
Add the butter from the glaze ingredients and wait until the butter melts.
Add all of the other ingredients and stir well.
Coat your biscotti, serve and enjoy!