Chocolate- Irish Whiskey Cake
Chocolate- Irish Whiskey Cake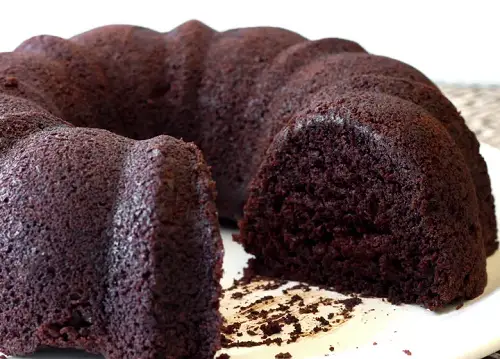 Ingredients
    1 tablespoon unsalted butter, melted

    4 ounces unsweetened chocolate, coarsely chopped

    1 3/4 cups cake flour

    1/2 cup natural unsweetened cocoa powder

    1/2 teaspoon baking soda

    1/4 teaspoon fine salt

    1/2 cup sour cream, at room temperature

    1/2 cup Irish whiskey

    1/4 cup brewed coffee, at room temperature

    2 sticks (8 ounces) unsalted butter, at room temperature

    1 3/4 cups packed light brown sugar

    3 large eggs, at room temperature

    Powdered sugar, for serving (optional)
Instructions
    Heat the oven to 325°F and arrange a rack in the middle. Using a pastry brush, coat the inside of a 12-cup Bundt pan with all of the melted butter; set aside.

    Place the unsweetened chocolate in a small saucepan over low heat, stirring occasionally until melted and smooth. Set aside to cool slightly.

    Meanwhile, combine the flour, cocoa powder, baking soda, and salt in a large bowl and whisk to break up any lumps and aerate; set aside. Combine the sour cream, whiskey, and coffee in a medium bowl and whisk until smooth; set aside.

    In the bowl of a stand mixer fitted with a paddle attachment, beat the butter and brown sugar on medium-high speed until light and fluffy, about 4 minutes. Add the eggs one at a time, stopping the mixer and scraping down the bowl and paddle after each addition. Add the melted chocolate and beat until just combined, about 30 seconds. Reduce the mixer speed to low and alternate between adding the flour mixture and the sour cream mixture, beginning and ending with the flour mixture, until just combined.

    Pour the batter into the prepared pan, smooth out the top, and bake until the top of the cake is puffed and cracked and a toothpick inserted into the center comes out clean, about 60 to 65 minutes. Remove from the oven and allow the cake to cool in the pan on a wire rack for 15 minutes. Flip the cake out of the pan and serve warm or at room temperature.

Dust with powdered sugar before serving, if you like.