Ciciones (Dumplings)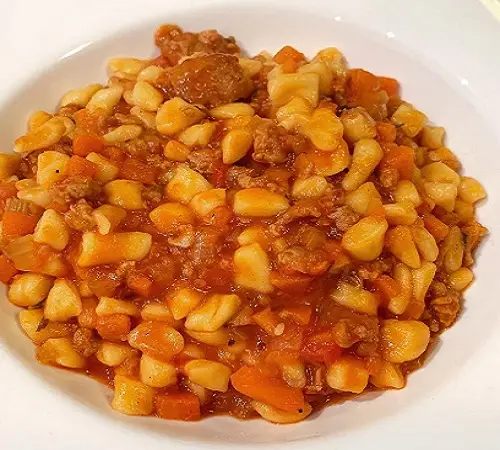 Ingredients For 6 people:
Semolina 500 gr
a pinch of saffron powder
For the sauce
Lean beef (or pork), chopped
ripe tomatoes (without seeds, skin and vegetation water) 500 gr
lard, chopped 80 gr
½ onion, chopped
grated pecorino cheese
basil (to taste)
salt, pepper.
PREPARATION
Sift the flour on a work surface with a pinch of salt and saffron, then add warm water and knead until you have a dough elastic and homogeneous. Knead the dough so that you get so many snakes rather thin of about 1 cm in diameter and cut into pieces about ½ cm each, then put them to dry in a sieve.
Aside put a pot (preferably earthenware) and saute the onion in lard, finely chopped, then add the minced meat and cook for about 30 minutes; Finally, add the tomatoes and finish cooking after adjusting with salt and pepper.
Blanch the ciciones in a pot with boiling salted water, then drain and serve topped with meat sauce prepared, sprinkle with grated cheese.
You can flavor with some basil leaves.