Clam & Fennel Chowder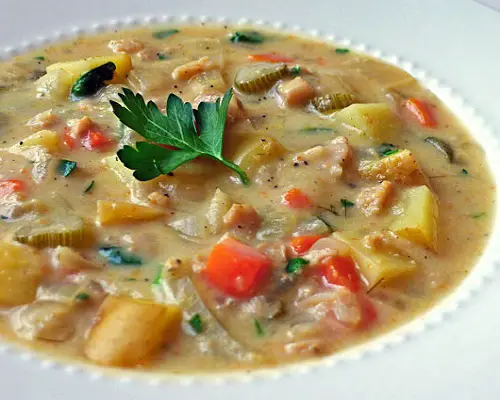 Ingredients
1 tbsp olive or coconut oil

2 – 3 cloves garlic, chopped

1 large yellow onion, chopped

2 stalks celery, diced

1 large carrot, diced

1 fennel bulb and its stalks sliced

1 cup dry white wine

1x 8oz clam juice

1 bay leaf

1 tsp minced fresh ginger

1/8 -1/4 tsp freshly ground pepper, to taste

3x  6.5oz canned chopped clams with juice

1 lb Yukon gold potatoes, washed and cut into 1/2″ dice

3 tbsp finely ground cornmeal

1/2 cup water

salt, to taste

1/4 cup fresh parsley, chopped

1/2 cup buttermilk

2 tbsp heavy cream
Directions
Heat the oil in a large pot with a tight fitting lid over moderate heat and add the garlic. When the garlic becomes fragrant add the onion and saute for a couple of minutes, stirring from time to time.

Stir in the celery, carrot and fennel and saute for about 5 minutes, adjusting the heat if necessary to keep things from burning.

Pour in the wine and clam juice. Add the ginger and ground pepper. Place a tight fitting lid over the pot, lower the heat and cook for about 25 minutes.

Stir in the juice from the canned clams, setting the clams aside. Stir in the potatoes, cornmeal and water. Top with the lid and cook gently  for another 15 minutes or until the potatoes are tender.

Check and adjust the seasoning with salt, if needed. Remove the bay leaf and stir in the reserved clams, parsley, buttermilk and cream. Cook until heated through, but don't allow the chowder to come to a simmer or boil or else it might curdle.

Remove from heat and serve. This chowder seems even better if you wait and reheat it the next day.