Peach and Apricot

Cognac Cheesecake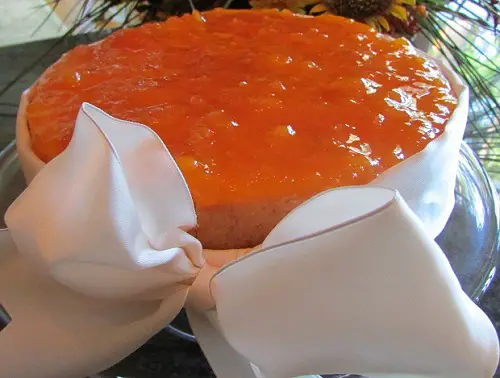 Cognac Cheesecake

Ingredients
CRUST
1 package hard Amaretti cookies

Butter (3-4 Tbsp.)1 tsp. almond extractProcess
Directions
 Amaretti cookies in blender and slowly add butter in tablespoons with extract until mixture comes together.

 Press on bottom and up sides of 9" (leak proof) spring form pan and freeze.
FILLING
8 oz. Mascarpone

1 ¼ cups sugar

12 oz. well drained Ricotta

2 tsp. bourbon vanilla extract

5 large eggs
TOPPING
Warm peach and apricot preserve.  While preserve is still warm, add 2 Tbsp. Cognac VSOP.
INSTRUCTIONS
Preheat oven to 475° and place a large water bath (pan filled with 1 inch water) in oven.

Blend filling: Mascarpone, sugar, Ricotta and extract until creamy. Beat eggs in a separate bowl and add to filling mixture. Blend eggs into filling mixture. Do not overwork eggs.

Remove crust from freezer and pour filling on top of crust. Open preheated oven and carefully place into a hot water bath. Bake for 10 minutes. Lower oven to 350° and bake until top of cheesecake turns golden, about 50 minutes.

Remove cake to cool. Add topping. Keep chilled until serving.