Conchiglioni Stuffed with Ricotta and Chives
Conchiglioni Stuffed with Ricotta and Chives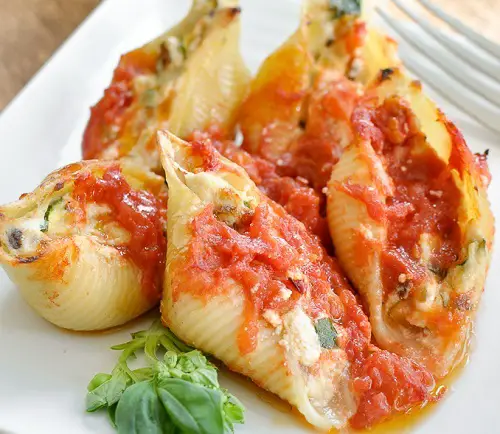 Ingredients
Serves 4-6.
1 c. ricotta

1/2 c. Parmesan

1/4 c. fontina cheese

2 egg yolks

1 Tbsp. unsalted butter

1/4 c. whipping cream

3 – 4 c. tomato sauce

1/2 c. Parmesan

2 Tbsp. fresh chives

1 lb. conchiglioni (cooked)
Directions
Mix ricotta, 1/2 cup Parmesan, fontina, chives and egg yolks together in bowl.

Stuff pasta shells with cheese mixture.

Preheat oven to 375°F.

Butter the bottom of a casserole.

Put a thin layer of cream in the casserole dish.

Place shells in a single layer.

Pour tomato sauce over top and sprinkle with 1/2 cup of Parmesan.

Put casserole in oven and bake for 15 minutes. Garnish with chopped fresh chives and serve.