Couscous Salad with Yellow Zucchini
Couscous Salad with Yellow Zucchini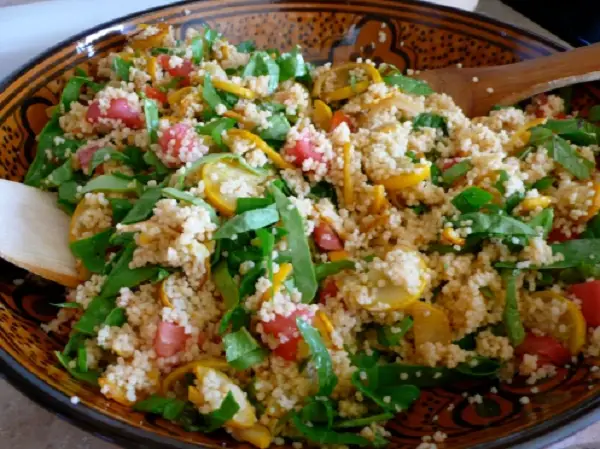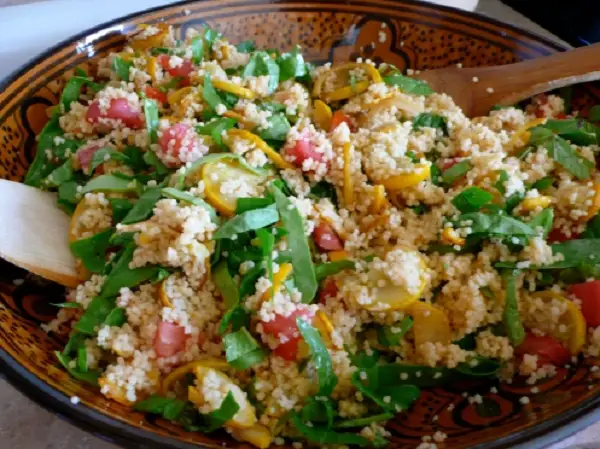 Ingredients
    1 cup couscous

    1¼ cups water

    4 medium yellow zucchini (green zucchini will also work)

    2 garlic cloves, peeled and left whole

    3 tbsp extra virgin olive oil, divided

    1 cup chopped spinach

    1 large tomato, chopped

    3 tbsp mint, chopped

    ½ cup toasted green pumpkin seeds
Directions
Wash and thinly slice zucchini into half-moons.

Heat 2 tbsps of the oil in a wide saucepan over medium-high heat and add the whole cloves of garlic. When garlic starts to sizzle add slices of zucchini.

Sauté zucchini over high heat for about five minutes or until they start to brown, lower heat to a medium flame. You need to make sure to turn the zucchini frequently so that it doesn't burn. When the zucchini is done, place them on a paper towel with a slotted spoon to absorb the excess oil.

For couscous pour water and the remaining tbsp of olive oil in a medium saucepan, bring to a boil. When the water is boiling remove from heat and add the couscous making sure that all of the couscous is covered by the water. Cover and set aside for 5 minutes.

Add butter and fluff the couscous with a fork over a light flame.

Allow the couscous to cool in a bowl large enough for you to toss the other ingredients in.

Add the zucchini and toss, followed by the remaining ingredients.

This should be served at room temperature as a main course or as a side dish.