Creamy Parmesan Risotto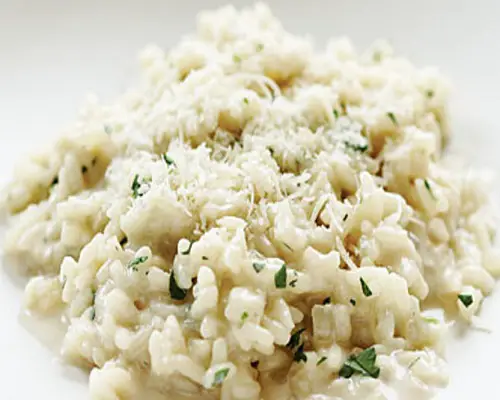 Creamy Parmesan Risotto
INGREDIENTS
4 to 5 cups of chicken broth

1/2 stick of butter

2 Tbls of extra virgin olive oil

1 bunch of long green onions, chopped

2 cloves of garlic, chopped

1 cup of Arborio rice

1 cup of dry white wine

1/2 tsp of salt

1/2 tsp of fresh ground black pepper

1 cup of fresh grated parmesan cheese

PREPARATION

In a small sauce pan bring the chicken broth to a simmer.

In a large pot sauté the onions and garlic in the butter and olive oil for 2 minutes.

Add the rice and stir until the rice is slightly brown. Not to much.

Add the cup of wine to deglaze the pan while stirring until all the liquid is absorbed.

Add the chicken broth one cup at a time until each cup is absorbed by the rice. Keep stirring during this time.

Repeat the above step until all the broth is gone. This should take around twenty minutes.

Turn off the burner and stir in the cheese.