Creamy Spinach Artichoke Pasta
Creamy Spinach Artichoke Pasta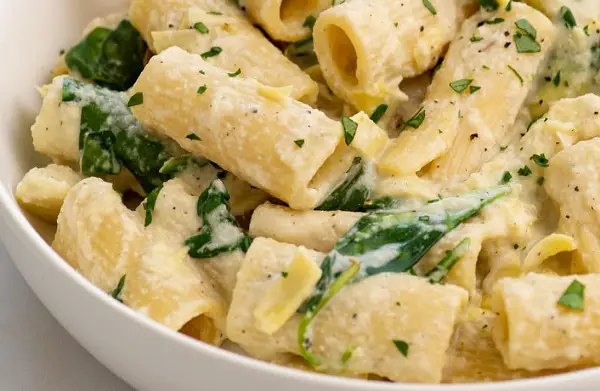 Ingredients
12 ounces campanelle pasta (I used rigatoni)

1 (12 ounce) package cream cheese or neufchatel cheese

3/4 cup sour cream

1 cup milk

1/2 teaspoon salt

1/2 teaspoon garlic powder

1/4 teaspoon black pepper

1/2 teaspoon hot pepper sauce

2 cups shredded swiss cheese

1 (13 3/4 ounce) can artichoke hearts, drained, halved

1 (10 ounce) package frozen chopped spinach, thawed, squeezed dry

1/3 cup shredded parmesan cheese

1 cup breadcrumbs, mixed with melted butter
Directions
1. Preheat oven to 350.
2. Cook pasta according to directions, drain; return to pot; reserve.
3. In large bowl at medium speed beat cream cheese and sour cream until smooth; reduce speed to low; add milk, salt, garlic powder, black pepper and hot sauce.
4. Beat until combined, 30 seconds; stir in 1 1/2 cups swiss cheese, artichokes, spinach and roasted red pepper.
5. Pour over pasta; toss to combine.
6. Spoon pasta mixture into a shallow baking dish; sprinkle with remaining swiss cheese, parmesan cheese and bread crumbs.
7. Bake until heated through, 30 minutes. If desired, to brown cheese broil 1 minute.