Cucidati (Italian Fig Cookies)
Cucidati (Italian Fig Cookies)
Fig cookies are a traditional St. Joseph's Day treat.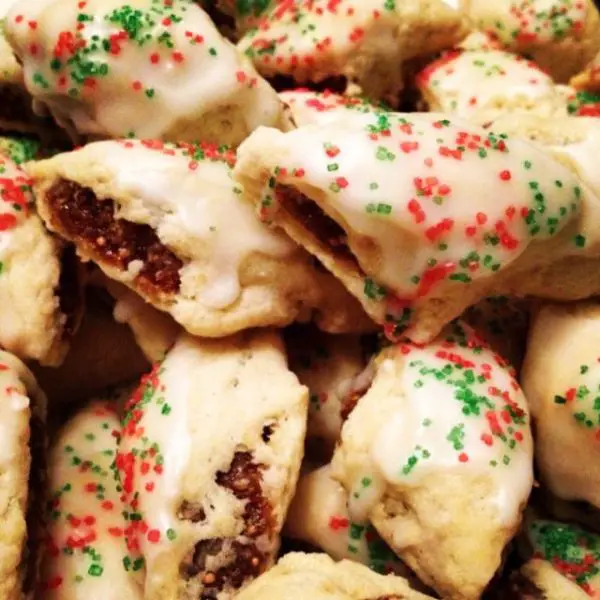 Ingredients
Cookie Dough
4 cups unbleached all-purpose flour
1 1/2 tablespoons baking powder
1/4 teaspoon salt
1/2 cup sugar
1 cup vegetable shortening
1 large egg
1 tablespoon pure vanilla extract
1/2 cup milk
Filling
1 cup dried fig
1 cup dried dates, pitted
3/4 cup raisins
1/4 cup honey
1/2 teaspoon cinnamon
1/4 cup orange marmalade
1/2 cup walnuts, chopped
Icing
2 cups confectioners' sugar
water or milk
colored sprinkles
Directions
For cookie dough, sift flour, baking powder, and salt into a large bowl.
Add sugar and stir well.
Cut in the shortening with a fork or pastry blender and work the mixture until it looks like corn meal.
In a bowl, beat egg, vanilla and milk together.
Add egg mixture to the flour mixture and mix with an electric mixer for about 3 minutes until well blended; dough will be soft.
(The original recipe says to knead the mixture for 5 minutes on a floured surface, but I find my Kitchen-Aid works great for this step!) Divide the dough into four pieces and wrap each piece with plastic wrap.
Refrigerate dough for 45 minutes.
To make the filling, grind figs, dates and raisins in a food processor until coarse.
(If you don't have a food processor, you can chop by hand until coarse) Place chopped figs, dates and raisins in a bowl.
Add remaining filling ingredients and mix well.
(Mixture will be thick) Set aside mixture.
Preheat oven to 375°F.
Work with one piece of dough at a time, leaving the other pieces of dough in the refrigerator until needed.
On a floured surface (I often use confectioner's sugar for rolling my dough), roll the dough to a 12-inch square.
Cut dough into 2X3-inch rectangles.
Spoon about 1 teaspoon of filling onto each rectangle.
Carefully fold the long edges over to meet in the center and pinch to seal seam.
Place each cookie, seam side down, on a baking sheet, making sure you leave at least 1-2 inches between each cookie.
Make 2 or 3 diagonal slits on the top of each cookie with a sharp knife.
Bake for about 12-15 minutes, or until cookies are golden in color.
Remove from oven and transfer cookies to a wire rack to cool.
For icing, place confectioner's sugar in a bowl.
Add just a little water or milk, until you get a smooth consistency- but not runny!
Ice the tops of each cookie and sprinkle with colored sprinkle.
Let icing dry completely before stacking!
Store in air-tight containers up to 2 weeks.