Delicious Meatballs and Sauce – Written Recipe
Delicious Meatballs and Sauce
Written Recipe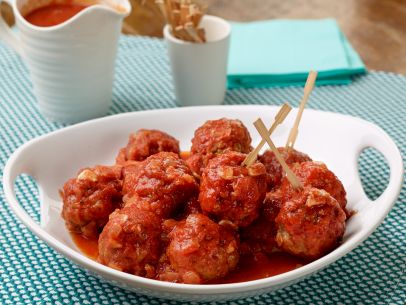 Sundays are known for meatballs and sauce.  Do you remember walking into your grandmother's house and smelling this sweet aroma every Sunday?  
This is a tradition that is very simple for you to create with your own family and it allow you to enjoy spending time with your family and friends.  Once everything is in the pot you can sit back and relax knowing that in a few hours you will be eating some of the best food made on earth.
Recipe courtesy Anne Burrell

Ingredients for the Meatballs:
Extra-virgin olive oil

1 large onion, 1/4-inch dic

Salt

2 cloves garlic, smashed and chopped

Pinch crushed red pepper

1/2 pound ground beef

1/2 pound ground veal

1/2 pound ground pork

2 large eggs

1 cup grated Parmigiano

1/4 cup finely chopped fresh Italian parsley leaves

1 cup breadcrumbs

1/2 cup water
Ingredients for the Marinara Sauce:
1/4 cup extra-virgin olive oil

1/4 pound diced pancetta

2 large Spanish onions, cut into 1/4-inch dice

Kosher salt

4 large garlic cloves, smashed and chopped

4 (28-ounce) cans Italian plum San Marzano tomatoes
Directions
Coat a large saute pan with olive oil, add the onions and bring to a medium-high heat.

Season the onions generously with salt and cook for about 5 to 7 minutes. The onions should be very soft and aromatic but have no color.

Add the garlic and the crushed red pepper and saute for another 1 to 2 minutes.

Turn off heat and allow to cool

In a large bowl combine the meats, eggs, Parmigiano, parsley and bread crumbs. It works well to squish the mixture with your hands. Add the onion mixture and season generously with salt and squish some more.

Add the water and do 1 final really good squish. The mixture should be quite wet. Test the seasoning of the mix by making a mini hamburger size patty and cooking it.

The mixture should taste really good! If it doesn't it is probably missing salt. Add more. Add more anyway.

Preheat the oven to 350 degrees F.
Marinara Sauce:
Coat a large saucepot with olive oil and add the pancetta. Bring the pot to a medium-high heat and cook the pancetta for 4 to 5 minutes.

Add the onions, season generously with salt and stir to coat with olive oil.

Cook the onions for 6 to 7 minutes stirring frequently.

The onions should become very soft and aromatic but have no color. Add the garlic and cook for another 2 to 3 minutes stirring frequently.

Pass the tomatoes through the food mill. Be sure to pass all of the pulp through the holes leaving only the stems and the seeds, and be sure to scrape the pulp off of the bottom of the food mill. That's all of the big money stuff!

Add the tomatoes to the pot and rinse out 1 of the empty tomato cans with water and add that water to the pot (about 2 to 3 cups). Season generously with salt and TASTE IT!!!! Tomatoes take a lot of salt. Season in baby steps and taste every step of the way. Cook the sauce for 2 to 3 hours, stirring occasionally and tasting frequently.

Use the sauce right away on pasta or for any other tomato sauce need. This sauce can also be cooled and stored in the refrigerator for a few days and freezes really well.

Yield: 2 quarts