Easter Bread Recipe – Cooking with Nonna
Easter Bread
Cooking with Nonna
*
We all remember the Easter Bread that our grandmothers used to make back in the day. Especially memorable are those that had the colored egg in the middle such as those pictured below.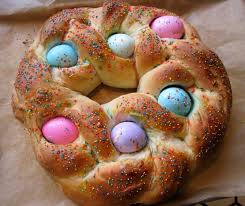 The pizza di Pasqua ("Easter Pizza" in English) is a leavened savory cake typical of some areas central Italy. It's base consists of wheat flour, eggs, pecorino and parmesan. Easter Bread is traditionally served at breakfast on Easter morning, or as an appetizer during Easter lunch. It is often accompanied by blessed boiled eggs, ciauscolo and red wine. Sometimes it is even served at the 
Easter Monday picnic.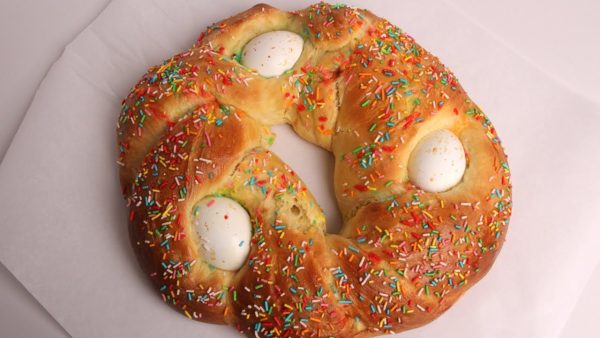 Italian Sweet Easter Bread
Having the same shape as panettone, the pizza di pasqua with cheese is a typical product of the Marche region. Also however, it is served in Umbria, where, as a traditional food product, it obtained the P.A.T. recognition.
There is also a sweet variant, with candied fruits or without, sugar and a fiocca, that is a meringue glaze with sugar beads.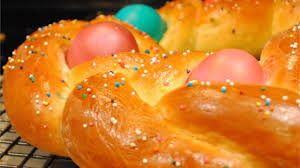 According to religious tradition, the pizza di Pasqua should be prepared on Holy Thursday or Good Friday. But it is to be eaten only at Easter, that is, at the end of the period of fasting and abstinence dictated by lent.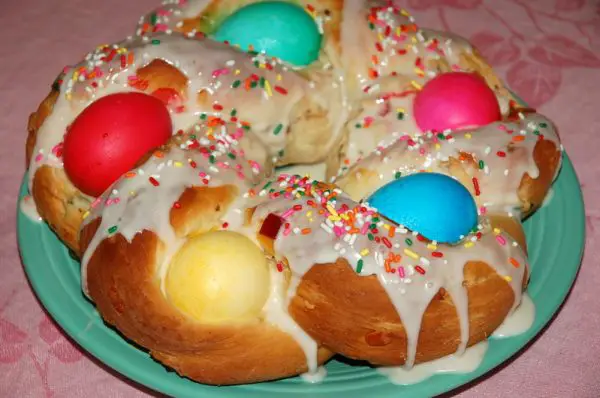 Once ready, it is customary to bring the pizza di pasqua to the church, so that it would be blessed together with the other foods to be consumed on Easter day.
In many European countries, there are various traditions surrounding the use of bread during the Easter holidays. Traditionally the practice of eating Easter bread or sweetened "communion" bread traces its origin back to Byzantium and the Orthodox Christian church.
The recipe for sweetened or "honey-leavened" bread may date back as far as the Homeric Greek period based on anecdotal evidence from classical texts that mention this type of special food. It is also widely known that sweetened bread desserts similar to panettone were a Roman favorite.
Wikipedia
*
Hope you enjoy this wonderful recipe by
Rosella and Cooking with Nonna
*
*
and
Visit us online at EverybodyLovesItalian.com