Easter Rice (Riso Nero di Pasqua)
Easter Rice
(
Riso Nero di Pasqua
)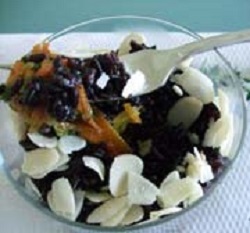 Unlike most black risotto, this owes it color to chocolate rather than squid ink, and is therefore a dessert; It was traditionally prepared by those living in the province of Messina as a votive offering for the Madonna Nera di Tindari.
You'll need:
Ingredients:
1 lb (500 grams) short grained rice
1 quart (liter) milk
3 and 1/2 cups (700 grams) sugar
1 lb (400 grams) bitter cocoa
1/4 lb (100 grams) bitter chocolate, crumbled
1 lb (400 grams) slivered almonds
1/4 lb (100 grams) mixed candied fruit, finely diced
2 ounces (50 grams) diavolini (tiny colored sprinkles)
The grated zest of an organically grown orange
Cinnamon
1 teaspoon vanilla
Directions:
Cook the rice in the milk, adding a pinch of salt, sugar and vanilla.
When the rice is close to being done stir in the cocoa, a little at a time, and the grated orange zest.
Stir constantly and make certain that the rice doesn't overcook and go soft or stick to the bottom of the pot.
Remove the mixture from the fire, stir in the almonds and the chocolate too. As soon as the mixture has cooled enough to keep it from melting.
Turn it all out onto a serving dish and sprinkle it with the candied fruit and the diavolini, then dust a little powdered cinnamon over all and it's ready.