Shrimp Cocktail Recipe Italian Style – GialloZafferano
Shrimp Cocktail Italian Style
"Cocktail di Gamberi"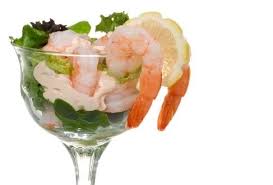 In this Video presentation Sonia shares her Recipe for creating our Shrimp Cocktail Italian Style.
"Cocktail  di Gamberi"
Recipe – (Ricetta)
Shrimp Cocktail is a very easy and fantastic appetizer to make for gatherings.  If you watch this video, you will learn a creative way to plate the Shrimp Cocktail in a wine glass.  This will look very pretty and leave your guests thinking that you spent a long time creating this appetizer.  It only takes a few minutes and you can make many of these in small wine glasses and put one at each persons plate as a first course.  Nothing says love like a wonderfully plated appetizer before a fantastic meal.

Ingredients:
1 and ½ cups of cocktail sauce (you can find the cocktail sauce recipe on GialloZafferano website)

1 pound of shrimp

1 bunch of parsley

1 head of lettuce
Directions:
1-  The first thing to do is to put up a pot of water to the boil. In the meantime, remove the shells of the shrimp, but reserve a few with the tails still attached which we'll use for decoration. When the water is at the boil, it's time to add the shrimp and let them cook for just a couple minutes. Then, remove them from the water and let them cool.
2-  As the shrimp are cooling, you can prepare the lettuce. Remove the external leaves from the head and choose 8 fresh and undamaged leaves. Wash and pat them dry. The crunchy internal leaves should be cut into thin strips. Now it's time to assemble the serving cups. Put a pair of leaves into a large wine glass letting them extend a bit outside for decoration, then take a small handful of the lettuce strips and place them in the center. This will help fill up the bottom of the glass for a nice presentation. Then you can continue with the next assembly steps.
3-  I've put the cocktail sauce in this bowl. Now, add the cooled and dried shrimp, and mix them together. It may seem like there's too much sauce for the shrimp, but this is because the sauce will also dress the lettuce in the cup. If you don't have a large glass like this, any small glass bowl will be fine. Now add a bit of the shrimp cocktail into the center of the bowl. This amount will yield 4 portions.
4-  For the final touch, decorate the glass with the shrimp with the attached tails. You can add a few blades of chives for a festive touch and finish it all with a sprinkling of chopped parsley. Our shrimp cocktail is finished.
Hope you enjoy!