Eggplant Croquettes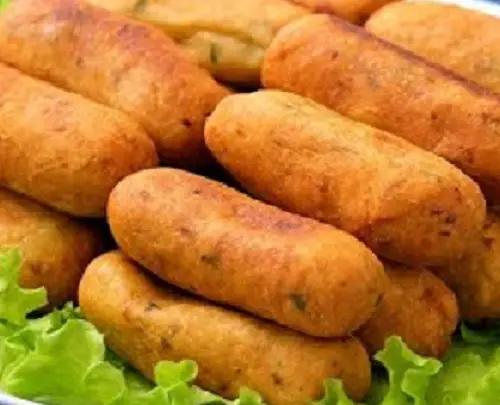 INGREDIENTS
SERVES 4 TO 6
3 medium eggplants

3 large eggs

1 scallion, very finely chopped, the white base and part of the green

1 cup grated cheese

¼ lb. diced caciocavallo or provola

2 oz. pinoli nuts

2 oz. currants or raisins

chopped fresh mint and chopped fresh parsley

1 cup breadcrumbs

salt and pepper to taste
For Frying
enough olive oil to fry croquettes

2 eggs

1 lb. breadcrumbs in a wide container
PREPARATION
Boil the eggplants in an abundant amount of salted water for 15 to 20 minutes, depending on the size. Place in a colander to drain and as soon as the eggplants are cool, cut in half and squeeze as much water out as possible.

In a large bowl, scoop out the eggplant and add the 3 eggs, scallion, diced and grated cheese, pinoli, currants, mint, parsley, pepper and a half of a cup of the breadcrumbs.

Mix well and if it is too watery add more breadcrumbs, a little at a time. Should mixture be too dry add some milk.

Make croquettes the size of a ping-pong ball and form small cylinders.

Beat two eggs and gently roll the croquettes into eggs, a few at a time.

Remove one at a time and place in the container with breadcrumbs.

Squeeze the breadcrumbs into croquettes and place in a dish.

Fry or deep-fry croquettes until golden, rest on paper towel.

Can be served hot or at room temperature as an appetizer or combined with tomato sauce as a main dish, matched with fresh sour dough bread.

Garnish with mint leaves.