Fall Harvest Pizza Recipe
Fall Harvest Pizza Recipe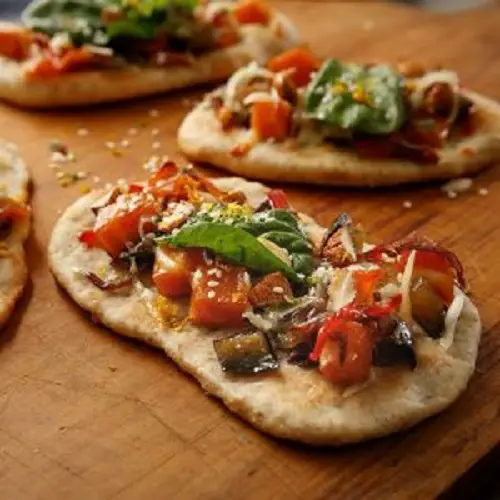 Craving some easy and comforting this fall? This is the pizza for your autumn menu! Topped with sweet squash, carrots and red bell peppers that have been tossed in warm fall spices, it's not only delicious, it's also super nutritious as well. We picked shredded mozzarella for a mild flavor, but you can pick blue cheese or goat cheese instead. Also, make the most of what's seasonally available and add apples or pears if that's more your taste. You can also easily take this vegetarian by removing the bacon, and vegan by removing the cheese.
Prep Time:
Cook Time:
Total Time:
Yield: 1 large pizza or 4 small pizzetes
Ingredients
1 ¼ tsp active dry yeast

1 tsp sugar

1 cup lukewarm water

1 y ½ cups white flour

1 cup whole wheat flour

3 to 4 tbsp olive oil, and 1 or 2 tbps. more to roll the dough or as needed

1 tsp salt
Toppings:
1 carrot, cut in rounds

1 cup cubed squash

1 eggplant cubed

1 red onion cut in wedges

1 red bell pepper in julienne

3 tbsp honey

½ tsp cumin powder

2 tbsp olive oil plus 1 tbsp more to finish

Salt and black pepper

6 oz. grated mozzarella, goat cheese or blue cheese

4 slices cooked bacon, chopped

1 tsp dried oregano

1 tsp dried thyme

Zest of 1 lemon

Zest of 1 orange

1 tbsp sesame seeds

4 tbsp roughly chopped almonds

1 bunch baby spinach leaves
Directions
Mix the dry yeast with the sugar and the water in a big bowl, then add the flour. Pour 4 tbsp of olive oil and start making the dough with your hands, adding more olive oil if needed. You will get a dough that is sticky but is easily formed into a ball.

When you get a ball (after about 5 minutes of mixing) transfer it to ziplock plastic bag and leave it to rise in a warm place of the kitchen for an hour.

Prepare the topping: Mix the carrot, the cubed squash, the eggplant, the onion and the red bell pepper with the honey, the cumin powder, and the olive oil. Add salt and black pepper to taste. Toss to coat and place on baking sheet at 350 F until golden. Reserve.

When the dough is leavened,  place it on a pizza pan. Moisten your fingers with olive oil and roll out with your hands,  into 1 pizza rectangle or 4 small pizzetes. Paint it with more olive oil and cook at 350F for 8 to 10 minutes or until golden.

Take it off the oven,  top with your fall harvest vegetables, the bacon, and sprinkle the shredded mozzarella (or blue or goat cheese). Take to the oven for another 4 minutes until the cheese is melted. Top with oregano, thyme, the lemon and orange zest, the sesame seeds and the roughly chopped almonds, and finish with baby spinach leaves and a drizzle of olive oil.