Farfalle with Roman Beans, Tomatoes Confit and Salmon
Farfalle with Roman Beans, Tomatoes Confit and Salmon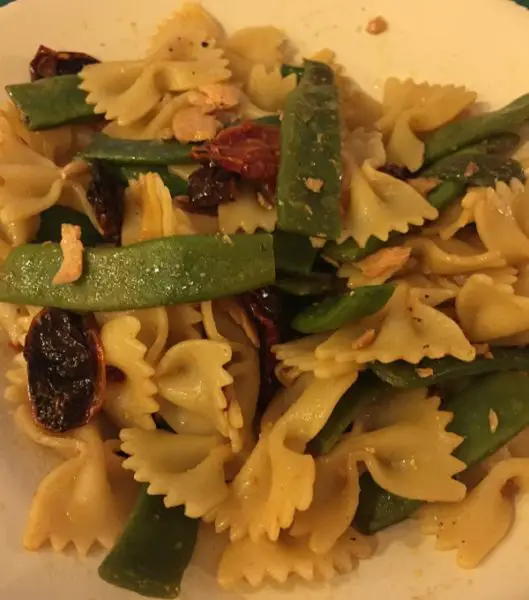 Ingredients
for the tomato confit:
    1 cup cherry tomatoes

    1 tbsp extra-virgin olive oil

    1 tsp sugar

    2 stems of fresh thyme

    salt to taste
Directions
Preheat the oven to 275F.

Clean your tomatoes and cut them in half, distribute on a baking sheet, sprinkle the sugar, thyme and salt evenly over the tomatoes.

Drizzle on the olive oil.

Place in the center of the oven and roast for about 2 hours, checking to make sure that they don't dry out too much.
Ingredients
    1 lb romano beans

    1 clove of garlic, squished, peeled and left whole

    1/2 lb fresh salmon (smoked will also work, though the flavor will be more intense)

    1 lb farfalle

    2 tbsp extra-virgin olive oil

    salt and pepper to taste
Directions
Clean the beans by snapping off the ends and rinsing under cold water, shake the water off of them and dry off with a clean kitchen towel.

Heat oil in a wide saucepan over medium-high heat and add the clove of garlic.

When garlic starts to sizzle add the romano beans, saute until the beans start to blister and wilt, lower the heat and add the tomato so that the flavors start to meld.

Add the salmon to the beans when you have added the pasta to the water, you don't want it to cook for too long, it can become very dry.

In the meantime, fill a large pot with water for the pasta. Bring to a boil over high heat.

Once the water starts to boil for the pasta add a small handful of salt to the water and bring to a rolling boil. Add the pasta and cook until al dente.

When the pasta is perfectly al dente, turn up the heat on the sauce and drain the pasta. Without shaking all of the water out of the colander pour the pasta into the pan and toss it with the romano beans and the salmon.

 Serve immediately with freshly ground pepper to taste.