Farfalle with Sautéed Brussels Sprouts Leaves
Farfalle with Sautéed Brussels Sprouts Leaves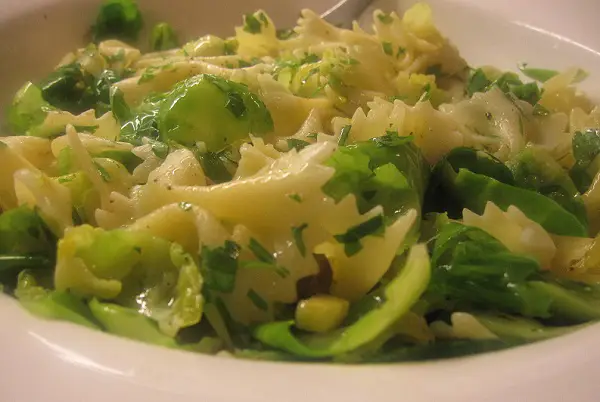 Ingredients:
Serves 4
1 lb/450g Brussels sprouts

Coarse salt and freshly ground black pepper

8oz/225g farfalle (Martha Stewart's team uses egg noodles of any kind, farfalle is my favorite – next time I'll be trying multigrain or whole wheat pasta)

2 tbsp extra virgin olive oil, plus more for drizzling at serving time

1 garlic clove, minced

4 tbsp unsalted butter, cut into pieces

2 tbsp capers, rinsed and drained

¼ cup fresh Italian/flat leaf parsley, coarsely chopped

Zest of 1 lemon, finely grated (2 tbsp) plus 1 tbsp lemon juice
Directions:
Cut Brussels sprouts in half length-wise from top through stem. Trim away the cor and pull the leaves apart.

Bring a large pot of water to a boil. Add salt and pasta according to directions (anywhere from 5-10 minutes). Reserve 1/3 cup of cooking water. Drain pasta and drizzle with olive oil.

In the meantime, heat 2 tbsp olive oil in a large sauté pan over medium heat. Cook garlic until softened, stirring constantly (about 2 minutes). Add the Brussels Sprouts, tossing to coat. (Ruth's note: I actually sautéed Brussels Sprouts and garlic together for 2 minutes and then added the reserved cooking water). Cook over medium heat until the leaves are tender (about 5 minutes) stirring occasionally.

Add the drained pasta and butter and continue to cook, tossing until the pasta is warmed through and the butter has completely melted (Ruth's note: it will form a silky lovely sauce.)

Transfer to a serving bowl and add the capers, parsley and lemon zest & juice. Taste for seasoning, and add salt and pepper to your taste.