Farfalle with Spinach and Soppressatta
Farfalle with Spinach and Soppressatta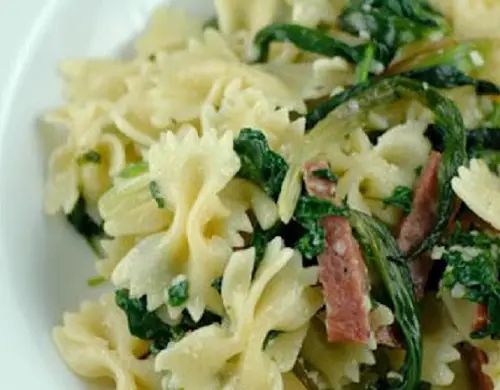 INGREDIENTS
Serves 4 people.
1 pound of Farfalle

2 cloves of garlic, chopped

1 bunch of long green onions, chopped

2 Tbls of extra virgin olive oil

1 pound of fresh baby spinach, stems removed

1 tsp of salt

1 tsp of fresh ground black pepper

6oz. of soppressatta, diced

1/4 cup of fresh Italian flat leaf parsley, chopped

1 cup of Parmesan cheese, shaved
PREPARATION
In a large pot of salted boiling water cook the pasta until al dente. Around 10 to 12 minutes.

Meanwhile in a large frying pan, sauté the garlic and onions in the olive oil for 2 minutes.

Thoroughly wash the spinach and add it to the pan and cook until wilted.

Season with salt and pepper.

Add the soppressatta and cook for 2 to 3 minutes more.

Drain the pasta and toss into the spinach and soppressatta.

Sprinkle with parmesan cheese and parsley.