Fettuccine Alfredo with Spinach
Fettuccine Alfredo with Spinach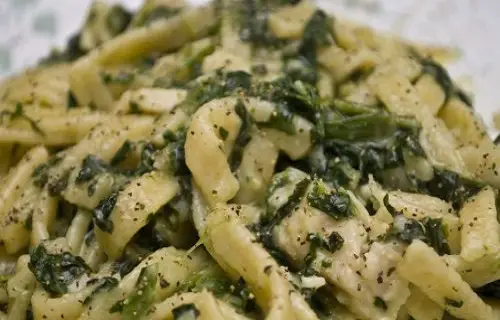 INGREDIENTS
Serves 6 people.
1 pound of fettuccine or penne pasta

8oz of fresh baby spinach

2 cloves of garlic, finely chopped

4 Tbls of butter

1 cup of heavy whipping cream

3/4 of a cup of freshly grated Parmigiano-Reggianno cheese

1/4 tsp of freshly grated nutmeg

1/4 tsp of salt

1/4 tsp of freshly grated ground black pepper

1/4 cup of fresh parsley chopped
PREPARATION
Cook the fettuccine in 6 quarts of boiling water until al dente. Around 10 to 12 minutes.

In a sauce pan large enough to hold all the pasta, melt the butter on low heat.

Saute the spinach and the garlic until the spinach is slightly wilted.

Stir in the cream and cook until slightly bubbly.

Season with nutmeg, salt and pepper.

Drain pasta and place it in the cream mixture stirring to coat.

Slowly add the cheese until the mixture is light, creamy and melted through.

Plate the fettuccine alfredo in a serving bowl and garnish with parsley.

Serve with extra cheese.