Fig Stuffed Pork Chops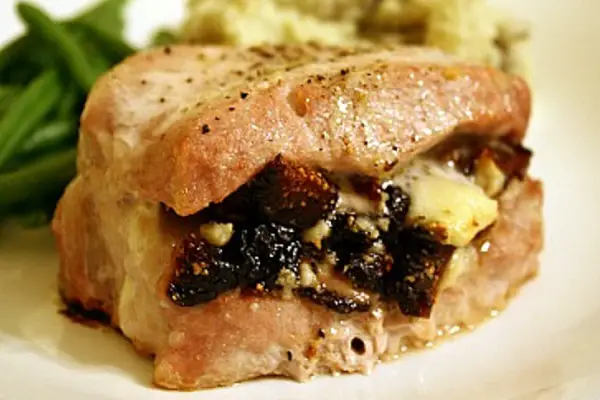 INGREDIENTS
Serves 6 people.
6 boneless pork chops

8 fresh figs, chopped

1 small yellow onion, chopped

1 large Portobello mushroom, chopped

2 cloves of garlic, chopped

2 tbls of butter

1 Tbles of extra virgin olive oil

8 to 10 slices of stale Italian bread

1 15oz can of chicken broth

1 tsp of rubbed sage

1 tsp of dried oregano

1/2 tsp of salt

1/2 tsp of fresh ground black pepper
PREPARATION
Slice a pocket on the side of the pork chops

In a saucepan sauté the onions, garlic and mushrooms in the butter and oil until tender, about 2 to 3 minutes.

Add the figs and the sage for 2 more minutes.

Add the chicken broth and simmer for 5 minutes.

Break up the bread and add it to the broth until all the broth is absorbed.

Cook while stirring for 5 more minutes.

Let the stuffing cool down a little and stuff the pork chops.

Secure the opening with a toothpick so the stuffing don't fall out.

Season the chops with the oregano, salt and pepper.

Place under a broiler for 10 minutes turning once during that time.

Serve some of the extra stuffing on the side.