Flounder with Grape Tomatoes and Spinach
Flounder with Grape Tomatoes and Spinach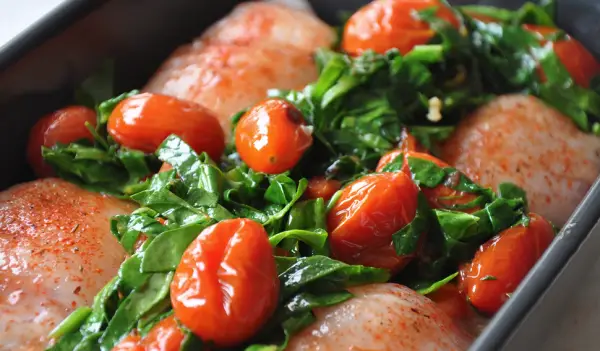 Ingredients
For The Vegetables
    1 clove garlic, minced

    1 quart grape tomatoes, whole

    2 cups baby spinach leaves, sliced in thin ribbons

    ½ cup white wine

    1-2 tablespoons olive oil

    Salt to taste
For The Fish
    1 pound  flounder

    ½ teaspoon sweet paprika

    Salt to taste

    2 tablespoons unsalted butter
Directions
Vegetables
Preheat the oven to 350 degrees.

In a skillet, heat the olive oil and sauté the tomatoes until blistered.

Add the garlic and cook another minute, then add the white wine and spinach. Cook the mixture until the liquid is reduced by half. Add salt the taste.

Spoon the vegetable in between the rolled flounder and pour the remaining liquid in the pan over the vegetables.
Fish
Turn the fillets pretty side down on a work surface, roll the fillet up into itself, and place it in a small to medium baking dish. Choose a dish that will accommodate the fish and vegetables snuggly. Repeat with each fillet.

Sprinkle the tops of the fish with the paprika and a little salt and set aside.

Dot the top of the flounder and vegetables with little pieces of butter.

Bake for about 15 minutes until the fish is cooked through.

Serve the flounder with the vegetables and pan juices over rice, couscous or quinoa.