Topo Gigio on The Ed Sullivan Show – Oct. 10, 1965
Topo Gigio
Ed Sullivan Show
October 10, 1965
Topo Gigio was immensely popular in his home country and became a worldwide sensation after his recurring appearances, beginning in 1963, on The Ed Sullivan Show. 
Topo Gigio was created by a troupe of Italian puppeteers, it took four people to bring the 10-inch-tall (25 cm) character to life: three to manipulate him, and one to create his voice.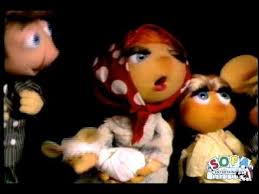 The puppet Topo Gigio stood in a special "limbo" black art stage with black velvet curtains, designed to absorb as much ambient light as possible, which helped hide the puppeteers, who were also
dressed in black from head to toe.
Each puppeteer operated a different part of Topo Gigio's foam rubber body by using several wooden dowel rods (also painted black). The illusion was quite remarkable, since unlike traditional hand puppets, Topo Gigio could actually appear to walk on his feet, sing, make subtle hand gestures. He could even walk up Ed Sullivan's arm and
perch on Ed's shoulder.
Careful lighting and TV camera adjustment made the "black art" illusion perfect for the television audience. On at least one appearance, Ed asked the puppeteers to come out and take a bow, revealing their black-clad appearance (though deftly hiding Topo Gigio's mechanisms to conceal the secret).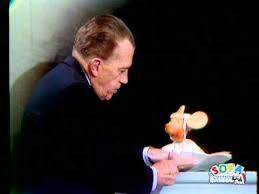 In more than fifty appearances on the show, the mouse would appear on stage and greet Ed Sullivan with, "Hello, Eddie!". Topo would occasionally talk about his girlfriend, Rosie. Gigio ended his weekly visits by crooning to the host, "Eddie, kiss me goodnight!" (pronounced as "Keesa me goo'night!").
Topo closed Sullivan's final show in 1971.
Today, Topo Gigio still has a cohort of faithful fans and has become an icon of Italian pop culture. He performs regularly at Zecchino d'Oro festival and other programs created by Antoniano and RAI. In 1965, a feature-length motion picture The Magic World of Topo Gigio was released internationally.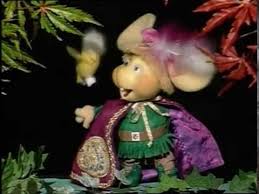 The puppet has made appearances and has a fan base in many other countries—including Argentina, Bolivia, Brazil, Chile, Colombia, 
Costa Rica, Dominican Republic, 
El Salvador, Ecuador, Guatemala, Japan, Mexico, Nicaragua, Honduras, 
Panama, Paraguay, Peru, Portugal, Puerto Rico, Romania, Uruguay, Venezuela and the former Yugoslavia.
The puppet made several appearances on UK TV on ITV's Sunday Night at the London Palladium in the 1960s and his wistful persona endeared him to British viewers of all ages.