Frank Sinatra's Favorite Dish
Frank Sinatra's Favorite Dish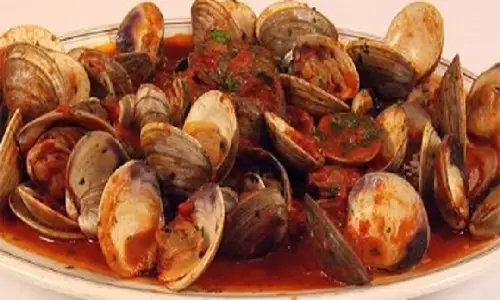 Frank Sinatra's Favorite Dish at Patsy's Italian Restaurant was Clams Posillipo.   Frank Sinatra was a regular at Patsy's located at West 56th Street in New York City in the 1940's. In this video, the executive chef of Patsy's shows us how to make Frank Sinatra's favorite dish.

Ingredients:
32 littleneck clams

3 Tbsps. olive oil

6 garlic cloves, halved

1 small yellow onion, chopped (about ¼ cup)

24 oz. jar of marinara sauce, or 1 can (28 oz.) whole plum tomatoes with juice*

Salt and freshly ground black pepper, to taste

1 Tbsp. tomato paste (optional)

¼ cup chopped fresh basil

1 Tbsp. chopped flat-leaf parsley, plus more for garnish
Instructions:
Scrub the clam shells, rinse thoroughly in cold water, and place in a large pot.

Add cold water to cover and bring to a boil over high heat. Cook until the shells open, about 5 minutes.

Using a slotted spoon, transfer the clams to a large bowl. Discard any clams that have not opened.

Strain the cooking liquid though a chinois or a strainer lined with a coffee filter, and reserve ¾ cup of this liquid as clam broth.

Return the clams to the pot, add cold water, and stir to remove any remaining sand. Drain and reserve.

Heat oil in a large saucepan over a medium flame and sauté the garlic halves until golden, about 2 minutes.

With a slotted spoon or tongs, remove and discard the garlic.

If using onion, saute the onion in the garlic oil and sauté for 3 to 4 minutes, until soft and translucent.

Add the cooked clams in with the garlic oil, followed by the tomato sauce. (If using canned tomatoes, see note below.)

Stir in the reserved clam broth, the tomato paste (if using) and the basil and parsley.

Season to taste with salt and pepper, and bring to a boil.

Cover, reduce heat to low, and simmer for 8 to 10 minutes or until the clams are heated through.

Spoon the clams and sauce into a large serving bowl.

Pour any excess sauce over the top of the clams, garnish with parsley and serve immediately.
* If using a can of tomatoes, coarsley chop the tomatoes and add (with their juices) to the garlic oil. Do not add the clams. Bring the sauce to a boil, then reduce the heat to low, cover, and simmer for 25 minutes, stirring occasionally. Season to taste with salt and pepper. Stir in the tomato paste (if using) and add the basil and parsley. Simmer uncovered for about 5 minutes, then add the clams and clam broth before continuing on to step #5.