Fried Bell Pepper Rings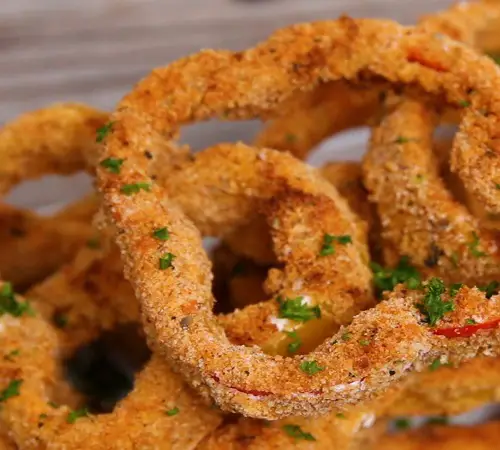 Ingredients
2 servings
nonstick cooking spray, optional

3 bell peppers
Breading
1 cup panko bread crumbs (50 g)

½ cup grated parmesan cheese

2 teaspoons garlic powder

1 teaspoon paprika

1 teaspoon dried oregano

1 teaspoon dried basil

1 teaspoon salt

½ teaspoon pepper

3 eggs, beaten

1 cup all-purpose flour

dipping sauce, of your choice, optional
Preparation
Preheat the oven to 425˚F (220˚C). Grease a baking sheet with nonstick spray or line with parchment paper.

Cut the bell peppers carefully around the stem and remove the stem and seeds. Cut the peppers crosswise into ½-inch (1 cm) slices.

In a large bowl, combine the bread crumbs, Parmesan, garlic powder, paprika, oregano, basil, salt, and pepper. Add the eggs to a separate bowl and whisk. Add the flour to a third bowl.

Dredge the bell pepper rings in the flour, then the eggs, then finally in the bread crumb mixture, making sure to coat all sides.

Arrange the bell pepper rings on the baking sheet.

Bake for 10-15 minutes, flipping halfway through, until golden brown on both sides.