Fusilli alla Puttanesca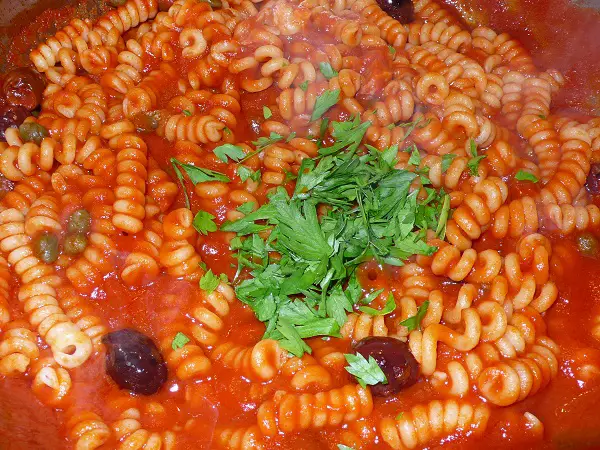 Ingredients
    2 cloves garlic, peeled and left whole

    3 oil-cured anchovies

    1 can of san marzano tomatoes, it is also easy to find canned cherry tomatoes, which I love!

    3 tbsp extra virgin olive oil

    1/2 cup pitted cured black olives

    1/4 cup capers, rinsed

    1 lb farfalle pasta
Directions
Fill a large pot with water for the pasta. Bring to a boil over high heat.

Heat oil in a wide saucepan over medium-high heat and add the anchovies and the whole cloves of garlic. When garlic starts to sizzle and the anchovies start to dissolve, add the canned tomatoes and cook over a medium flame until the tomatoes start to break up. Add the olives and capers to the pan, lower the heat and cover, adding water if the tomatoes start to dry out.

Once the water starts to boil for the pasta add a small handful of salt to the water and bring to a rolling boil. Add the pasta and cook until al dente.

When the pasta is perfectly al dente, turn up the heat on the sauce and drain the pasta. Without shaking all of the water out of the colander pour the pasta into the pan and toss it with the sauce. This allows for the pasta to cook a little longer in the sauce and to absorb the flavor.

Serve immediately.