Fusilli with Cauliflower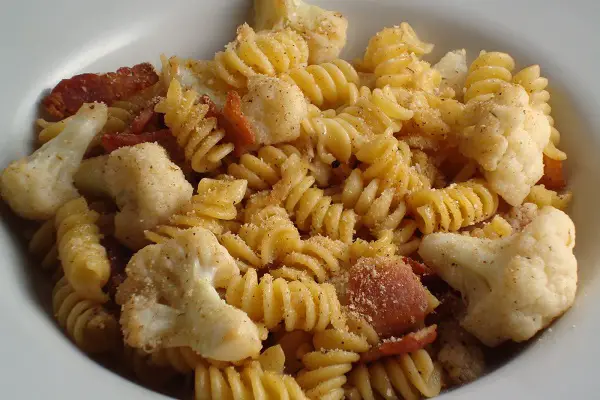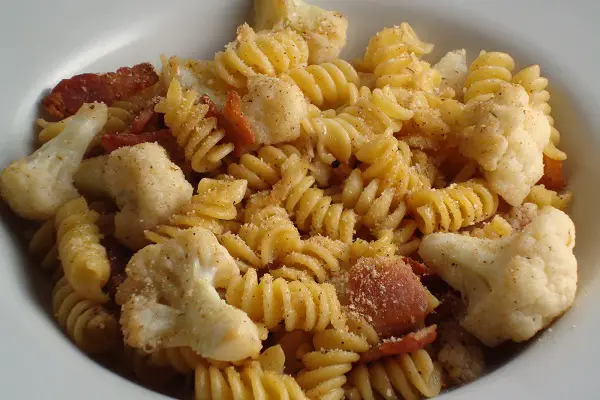 Ingredients
1 head cauliflower, cut into florets

1 pound fusilli

2 teaspoons extra-virgin olive oil

1/3 cup bread crumbs, toasted

6 slices bacon, chopped

4 garlic cloves, minced

1 large shallot, minced

Freshly grated Parmesan (optional)
Directions
Bring a large pot of salted water to a boil. In a large skillet, heat the olive oil and add the bacon and cook until crisp.

Meanwhile, add the cauliflower to the boiling water and cook 2-3 minutes until just tender. Transfer the cauliflower with a slotted spoon to a colander to drain and keep water at a boil.

Remove the bacon from the skillet with a slotted spoon and drain on a paper towel. Add the shallots and garlic to the skillet and cook until the shallots are translucent. Add the cauliflower and bacon back to the skillet and toss to combine.

Cook the pasta in boiling water until al dente. Drain well, reserving a ladle-full of the water. Add the pasta to the skillet and toss to combine. Add the reserved pasta water if the sauce looks dry.

Sprinkle the pasta with bread crumbs and serve with Parmesan if desired.