Garlic Cream Sauce With Parmigiano-Reggiano
Garlic Cream Sauce With Parmigiano-Reggiano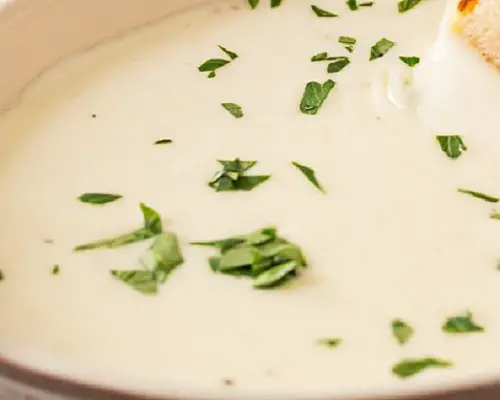 Ingredients
Makes: enough for a pound of pasta
Prep: about 45 minutes
Cook: 6-8 minutes
1 Bulb Roasted Garlic – Instructions for roasting: HERE

2 Tbsp. Olive oil

2 Tbsp. Butter

1 2/3 c. Heavy Cream – warmed

1/2 c. + 2 Tbsp. Grated Parmigiano-Reggiano Cheese

Salt and Pepper

Fresh Parsley for garnish

Grated Parmigiano to serve with dish
Ingredients
1 Large Bulb Roasted Garlic ( Instructions linked above)

Squeeze cloves out of roasted garlic bulb into a pan and mash, adding butter and oil. Cook a little to combine.

Add warm cream and grated cheese.

Cook until heated through – about 6-8 minutes. Sauce will thicken slightly.

Add salt and pepper to taste. (Salt is important here as it will bring out the flavors.)

Garnish with fresh parsley.

If serving with pasta – offer grated Parmigiano-Reggiano along with it.