Garlic Shrimp with Spicy Sausage
Garlic Shrimp with Spicy Sausage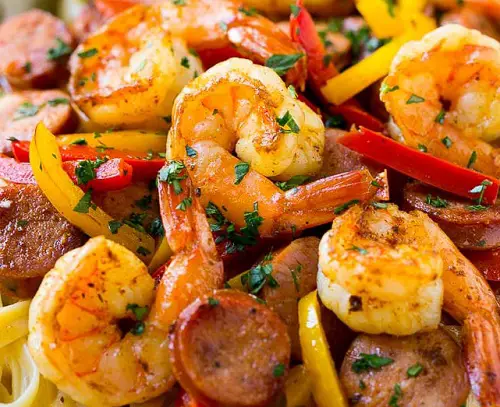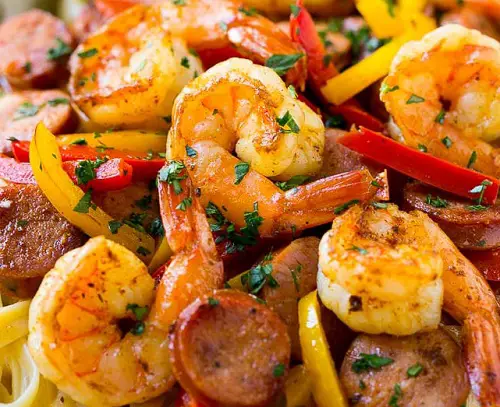 Serves 2-3.
Ingredients:
2 cups of fresh shrimp (tail shells removed)
1 cup spicy Italian sausages, sliced about 1/4 – 3/8-inch thick pieces
1/2 cup minced red onions
1/4 cup diced red and yellow peppers plus 1 tbs for garnishing
1 tbs crushed or finely minced garlic
Extra virgin olive oil
2 tsp paprika
Sea salt and pepper
1/4 tsp chili flakes
Chopped fresh parsley to garnish
Directions:
Heat the garlic, onion, chili flakes, and peppers in a decent amount of olive oil (2-3 tbs) and butter (1-2 tbs) just until the aroma comes out.
Add the sausages and cook.
Saute until the sausages are cooked through.
Add the shrimp and sprinkle in the paprika.
Stir and saute till just slightly undercooked, then turn off the heat so that the shrimp will cook by the remaining heat and not get tough.
Taste and add salt and pepper as needed.
Serve on plates and add parsley and bell pepper to garnish. Serves 2-3.