Gnocchi, Sausage & Spinach Soup
Gnocchi, Sausage & Spinach Soup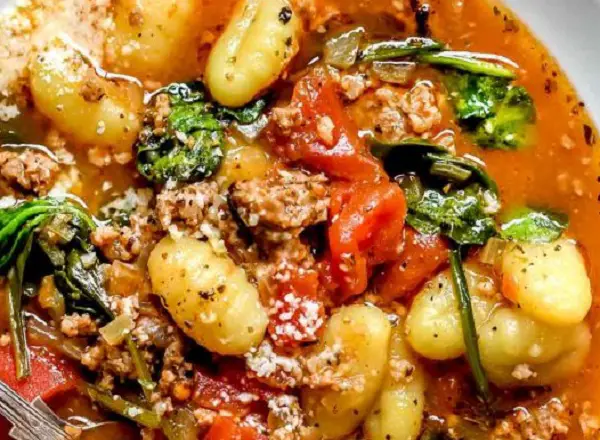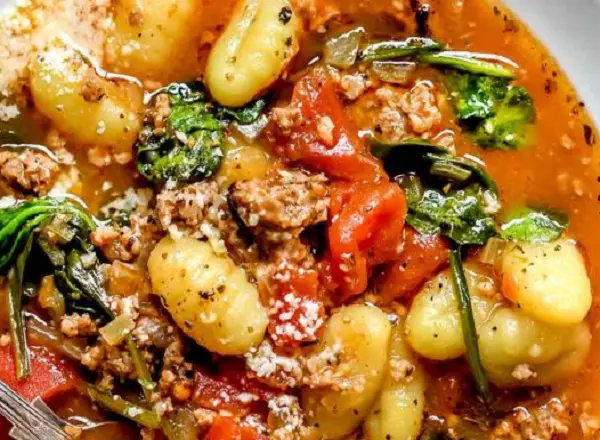 Ingredients:
1 yellow onion, diced

1 roasted red pepper, diced

olive oil, for sauteing

sea or Kosher salt and fresh black pepper

1 pound Italian sausage, ground or removed from casings, hot or sweet

4 cloves, garlic, minced

1 teaspoon dried basil, crushed between fingers

32 ounces low-sodium chicken broth

1 15 ounce can diced tomatoes with their juice

1 pound gnocchi-*I cut the gnocchi in 1/2 or 1/4's to give more per bite

2 cups fresh baby spinach leaves, rough chopped

3/4 cup half & half or heavy cream –*I use fat-free

1 heaping tablespoon fresh basil, chopped–*I never have this

Parmesan cheese, fresh grated, for serving
Directions:
In a large sauce pan or soup pot sauté onion and red pepper in a couple of tablespoons olive oil over medium-low heat until tender. Season well with salt and pepper.

In a separate, large skillet brown the sausage, breaking it apart as it cooks. Add garlic to onion mixture and saute until fragrant.

Drain sausage and add to onion mixture along with the basil and chicken broth and tomatoes. Season with salt and pepper, simmer for 20 minutes.

Add gnocchi and spinach, bring to a simmer and cook until gnocchi puff up and start to float (check package for cooking time).

Add half & half and fresh basil, bring to a simmer for three or four minutes.

Serve with Parmesan cheese.