Green & White Bean Salad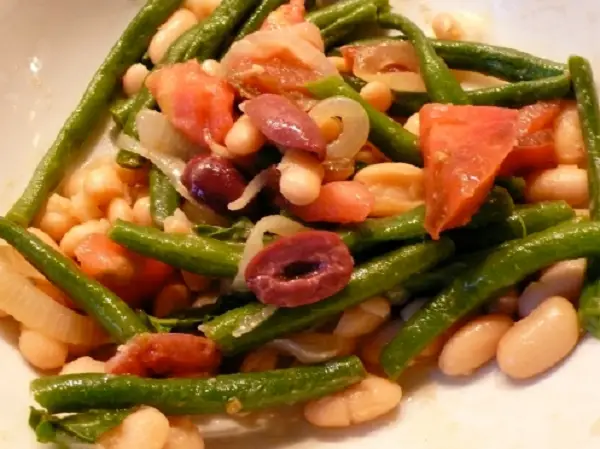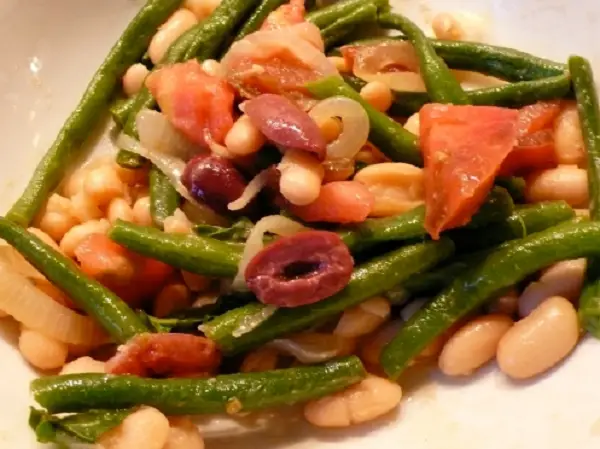 Ingredients
    3/4 pound green beans, ends removed, halved

    3 to 4 tbsp extra-virgin olive oil

    1 large onion, halved and sliced thin

    2 cups cooked white beans or one 15-ounce can white beans, drained

    3/4 pound ripe tomatoes, diced

    1/3 cup black olives, or kalamata olives, halved and pitted

    3 tbsp coarsely chopped fresh basil

    1 to 2 tbsp strained fresh lemon juice

    Salt and freshley ground pepper, to taste
Directions
Add green beans to a large saucepan of boiling salted water and boil uncovered over high heat 5 minutes or until crisp-tender. Drain in a colander, rinse with cold water, and drain well again.

Heat 2 tbsp oil in medium skillet. Add onion and sauté over medium-low hear, stirring often, about 7 minutes or until tender but not brown.

Combine white beans, green beans, onion with oil, tomatoes, olives, and basil in a bowl and toss lightly.

Whisk lemon juice with 1 tbsp oil and salt and pepper to taste in a bowl; salt lightly because olives are salty. Add to salad and toss until ingredients are coasted. Taste and adjust seasoning. Add remaining oil if desired and toss again. Serve at room temperature.