Grilled Bread Salad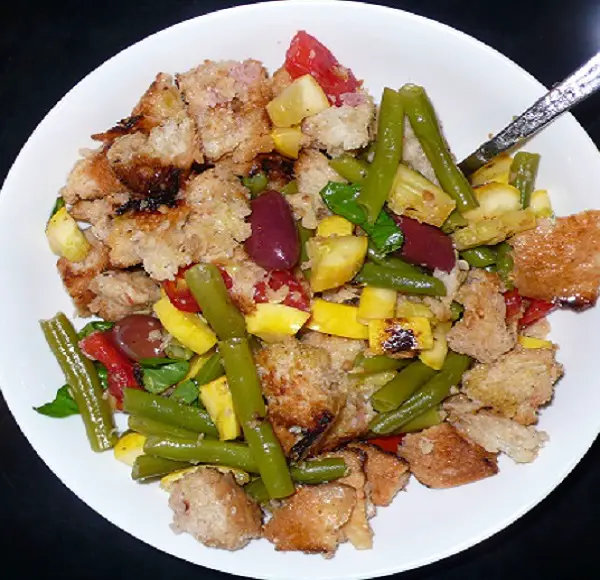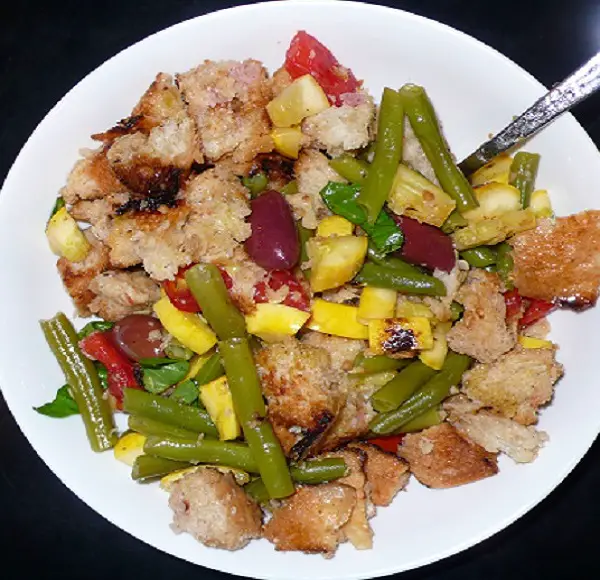 Ingredients
    1 tomato, chopped

    1/2 lb green beans, steamed until crisp

    2 or three yellow squash, cut in half

    5 or 6 basil leaves, cut into thin strips

    1/4 cup of black olives, pits removed

    Leftover bread, at least 5 or 6 slices (you want a good artisanal bread, commercial breads will only get soggy after they have been put under running water)

    4 tbsp extra-virgin olive oil

    2 tbsp balsamic vinegar

    Salt and pepper to taste
Directions
Heat a stove top grill to medium high heat.

Place sliced bread on the grill for a few minutes on each side. You want them to brown nicely, with grill marks, but careful not to burn. When all of the bread is grilled, set aside.

Coat the squash halves with extra-virgin olive oil and place cut-side down on the hot grill.

Grill on each side for a few minutes, you want the grill marks, but you don't want the squash to fully cook, it needs to stay a little crisp.

 Remove and cool before dicing into 1/4 inch pieces.

Wet the bread all the way through, you don't want to soak it, it just needs to get soft, but not soggy. Break into small pieces with your hands and place in a large bowl.

Add the tomatoes, green beans, diced squash, basil and olives.

Toss through and let sit for at least an hour before serving.

Drizzle olive oil, balsamic vinegar, salt and pepper over the salad and toss through immediately before serving.