Grilled Eggplants and Zucchini in Balsamic Vinaigrette
Grilled Eggplants and Zucchini in Balsamic Vinaigrette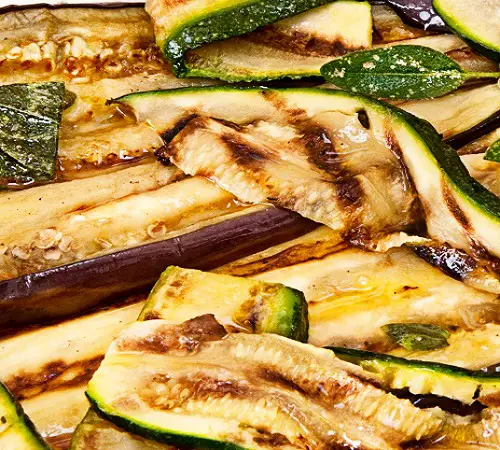 Ingredients:
Serves 4 to 6
2 lb. baby eggplant, or Sicilian eggplant sliced the long way 3/8 inch thick, skin on.

2 lb. zucchini sliced the long way 3/8 inch thick, skin on.

You can add any other vegetable that you like, like radicchio, lettuce, celery, tomato, artichokes heart, Portobello mushroom, etc
Preparation
Scrape and wash the Zucchini and wipe clean any other vegetables.To cook vegetables, simply lightly spray or brush each piece on both sides with canola oil and place in a heavy duty pan, bake at 400 degrees or if you barbecue, wait for flames to die down and place vegetables on the grill.

Turn the sliced vegetables with a spatula, every few minutes, usually it takes 10 to 15 minutes to be cooked.

The mushrooms, the radicchio, the lettuce cook in 2- 3 minutes, and you must watch them carefully.

When vegetables are ready, place in serving a dish, sprinkle with salt and pepper and spray with balsamic vinaigrette.

This dish can be served warm or at room temperature.