Grilled Whole Bass with Warm Tomato Vinaigrette
Grilled Whole Bass with Warm Tomato Vinaigrette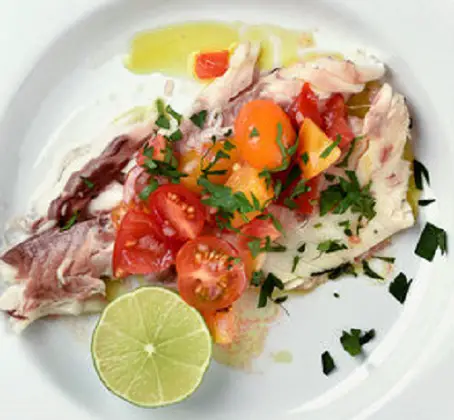 Ingredients
4 SERVINGS
2 whole bass (1¼ pounds each), gutted and scales removed

2 tablespoons plus ¼ cup extra virgin olive oil

2 teaspoons plus 1 teaspoon kosher salt

¼ cup thinly sliced shallot

2 cups quartered grape tomatoes (yellow, red, and orange)

2 teaspoons finely minced jalapeño

1½ tablespoons lemon juice
Instructions:
 Preheat an outdoor grill to medium-high heat.

Rinse the fish under cold, running water and pat dry with paper towels or a clean dishtowel. Brush each bass inside and out with 2 tablespoons olive oil and season with 2 teaspoons salt.

Place the fish in a nonstick fish-grilling basket, or use bunched-up paper towels to apply canola oil to the grill grate to prevent sticking, if you want to put the fish directly on the grill.

 Grill the bass over direct heat for 8–10 minutes on each side. The skin will become crispy and the flesh cooked through. Keep the grill cover closed while the fish is cooking.

 Heat the remaining ¼ cup olive oil in a large sauté pan over medium heat. Sweat the shallots for 2 minutes until soft and translucent. Toss in the tomatoes and sauté for 2 minutes. Stir in the jalapeño and sauté for 1 minute. Remove from heat and stir in lemon juice and remaining 1 teaspoon salt.

 Transfer the grilled bass to a serving platter and top with warm tomato vinaigrette.