Grilled Whole Branzino with Orange and Garlic
Grilled Whole Branzino with Orange and Garlic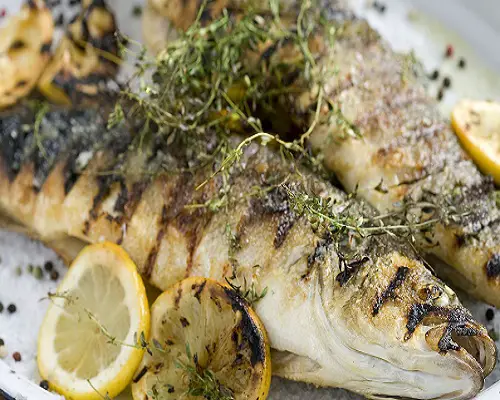 Ingredients
Serves: 2
Prep: 15 minutes
Cook: approx. 10 minutes
1 Whole Branzino (about 1 lb.) (plural – Branzini)

Your favorite Extra Virgin Olive Oil – Make it a good one!

Kosher Salt and freshly ground Black Pepper

2 Garlic Cloves – chopped

1 Fennel Bulb, cleaned and sliced

Fresh Tarragon Sprigs

Several Fresh Orange Slices

Juice of 1/2 Fresh Orange

Chopped Fresh Scallions for garnish
Instructions
Ask your fishmonger to take the scales off your Branzino, remove the fins, and clean out the inside (gut).

Prepare your grill fire. I recommend soaking and using some wood chips to create good smoke.

Rinse off your fish and pat it dry.

Drizzle the fish inside and out with Extra Virgin Olive Oil. Salt and pepper the inside.

Holding the fish open, sprinkle in the garlic and lay some fennel, orange slices, and tarragon sprigs inside as well.

Squeeze the orange inside the fish. Close the fish and drizzle some of the orange on the outside.

Place your stuffed Branzino on a grilling pan with holes or in a grilling basket. Lay the extra fennel and orange slices on the pan also as they will be delicious grilled and charred. Drizzle them also with some of the oil, orange juice, salt and pepper.

When the fire is hot and your wood is smoking – place your grilling pan on the grill and close it.

Roast it for about 6 minutes – turn over and grill for another 6 minutes  on the other side.

Garnish with fresh chopped scallions and orange slices.