Gubana Sweet Italian Easter bread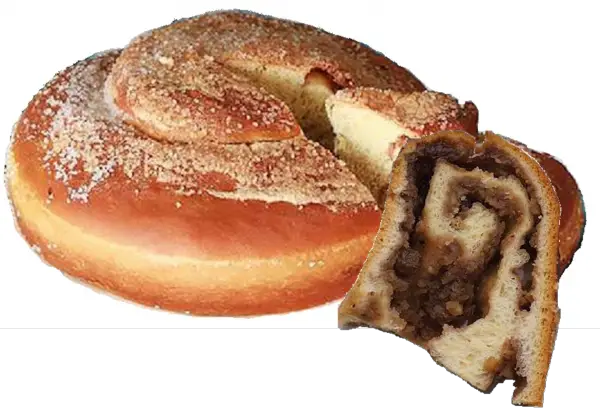 Ingredients
Serves 12
3 cups plain four

½ cup caster sugar

2 teaspoons

dried yeast

good pinch of salt

1 whole egg, at room temperature

1 egg yolk, at room temperature

1 tsp natural vanilla extract or essence

finely grated rind 1 orange

7 tbsp butter, cubed

½ cup milk

melted butter, to grease

1 extra egg, lightly whisked, to glaze
Filling
½ cup marsala wine

1 cup seedless raisins, chopped

2/3 cup  hazelnuts, toasted and peeled

1 cup walnuts, toasted

⅓ cup pine nuts, toasted

3 1/2 oz  savoiardi (sponge finger biscuits), broken into chunks

¼ cup chopped glace orange rind or mixed peel

2 tbsp cocoa powder, sifted

1 tsp ground cinnamon

finely grated rind of 1 lemon

1 tbsp honey
Instructions
Resting time 2 hours
Combine the flour, sugar, yeast and salt in a large mixing bowl and make a well in the center. Whisk together the whole egg, egg yolk, vanilla and orange rind. Melt the butter in a small saucepan over medium heat. Add the milk and heat until just luke warm. Remove from the heat and add to the flour with the whisked egg mixture and use a wooden spoon and then your hands to mix to a soft dough.

Turn the dough out onto a lightly floured surface and knead for 10 minutes or until smooth and elastic (see Note). Lightly grease a clean large bowl with the melted butter, add the dough and turn to coat the dough in the butter. Cover with plastic wrap and set aside in a warm place for 1 hour or until doubled in size.

Meanwhile, to make the filling, heat the marsala and raisins in a small saucepan over a medium heat until almost simmering. Remove from the heat and set aside to cool.

Process the hazelnuts, walnuts and pine nuts in a food processor until chopped. Add the savoiardi biscuits and use the pulse button to process until the biscuits are crushed to a similar size as the nuts. Transfer to a bowl and add the glace orange rind, cocoa, cinnamon and lemon rind. Add the cooled raisin and Marsala mixture and the honey and stir to combine and form a coarse paste.

Preheat the oven to 355F. Grease a 8″ springform tin with melted butter.

Punch the center of the dough down with your fist and turn onto a lightly floured surface. Knead for 2-3 minutes or until smooth. Use a lightly floured rolling pin to roll out the dough to a rectangle about 12″x 20″. Spread the filling evenly over the dough, leaving a 3/4″ boarder. Starting from a long side, roll the dough up to enclose the filling and pinch the ends to seal. Twist into the greased tin to form a coil. Cover with plastic wrap and set aside in a warm  place for 1 hour or until risen by about one third.

Brush the top with the extra whisked egg and bake in preheated oven for 20 minutes. Reduce the temperature to 320F and bake for a further 40 minutes or until cooked through and sounds hollow when tapped on the base. Stand in the tin for 5 minutes before turning onto a wire rack to cool.

Serve at room temperature cut into wedges.