Ham and Shells Casserole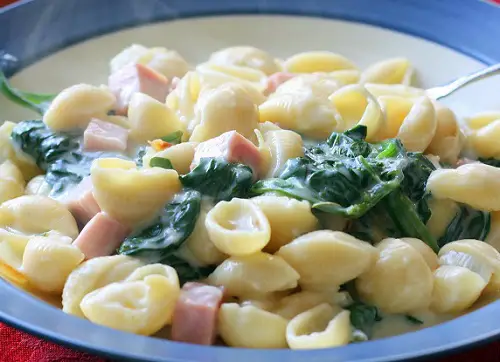 Ingredients
1 pkg (16 oz.) medium pasta shells

3 large onions

1 Tbsp olive oil

1 9 oz. package fresh spinach, torn

1 Tbsp minced fresh rosemary or 1 tsp dried rosemary, crushed

1/4 cup butter, cubed

1/3 cup all-purpose flour

Salt and pepper to taste

3-1/2 cups skim milk

1 cup park-skim ricotta cheese (I omitted because I didn't have any)

1 cup (4 oz.) crumbled goat cheese (I used mozzarella)

2 cups cubed fully cooked ham

1/3 cup grated Parmesan cheese
Directions
Preheat oven to 350°

Cook pasta according to package directions. Meanwhile, in a large skillet over medium heat, saute onions in oil for 15-20 minutes or unitl golden brown. Add spinach and rosemary, cook for a few minutes until spinach is wilted.

Meanwhile, in a large saucepan, melt butter. Stir in flour and pepper until smooth and cook for a few minutes. Gradually add milk, stirring to prevent lumps from forming. Bring to a boil, cook and stir for 2 minutes or until thickened. Remove from heat and stir in cheeses until blended.

Drain pasta, place in a large bowl. Add the ham, onion mixture and sauce and toss to coat. Season with salt and pepper to taste.

Pour into a greased 9×13 baking dish and sprinkle with Parmesan cheese.

Bake uncovered for 25-30 minutes until bubbly.