Harissa Recipe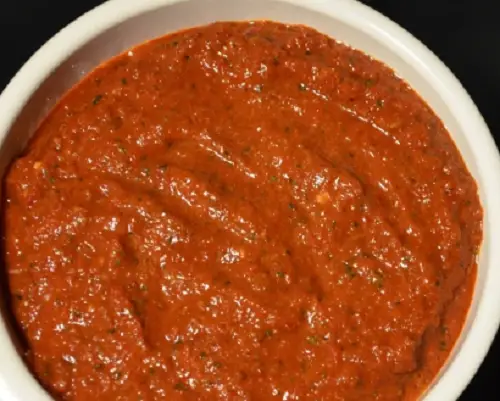 yield: 2 cups
Ingredients
12 Fresno peppers, seeds removed

3 whole roasted red peppers — well-drained if store-bought

1 Habanero chile, seeds removed

2 tsp caraway seeds

1 tbsp whole cumin seed

1 tbsp whole coriander seed

2 tsp paprika

1/2 tsp kosher salt

1 tbsp tomato paste

10 garlic cloves, smashed

30 mint leaves, more or less to taste

1/4 c extra virgin olive oil

water
Directions
Place cumin seeds in a small frying pan over med-high heat. Keep the pan moving and toast the seeds until uniformly brown and fragrant — no more than 2 minutes. Immediately remove from pan and reserve.  Repeat with coriander seeds and then the caraway. Once all are cool, place in spice mill or mortar and grind. (See Notes)

Place the ground spices. Habanero and Fresno chiles, paprika, and salt into the bowl of a food processor and run until a thick paste has formed.

Add the mint leaves and pulse the contents until mixed.

Add the oil and process. If you prefer your harissa sauce to be thinner, add water until it reaches the consistency you like.

Harissa is ready to use as-is, though it will be better after a few days, once the flavors have a chance to blend a bit.
Refrigerate in an airtight container. Celia recommends adding a thin coat of olive oil before storing. Harissa should be used within a couple of weeks.
Notes
It is best to toast seeds of varying sizes separately. When toasted together, the smallest seeds will likely burn while you wait for the larger ones to toast.