Have Yourself a Merry Little Christmas – Frank Sinatra – 1967
Have Yourself a Merry Little Christmas
Frank Sinatra
December 21, 1967
The Dean Martin Christmas Special
This particular piece was filmed in 1967 during the Dean Martin Christmas Special.
Lyrics Below
Have Yourself A Merry Little Christmas
Written by Sam Smith
Have yourself a Merry Little Christmas
Let your heart be light
From now on your troubles will be out of sight
Have yourself a merry little Christmas
Make the Yuletide gay
From now on your troubles will be miles away
Here we are as in olden days
Happy golden days of yore
Faithful friends who are dear to us
Gather near to us once more
Through the years we all will be together
If the fates allow
Hang a shining star upon the highest bough
and
Have yourself a merry little Christmas, now.
History of Frank and this song below
The Frank Sinatra Christmas Collection is a 2004 Christmas album from Frank Sinatra. The selection of tracks on the album spans Sinatra's career from 1957 to 1991 and includes four previously unavailable tracks—two previously un-issued on CD and two previously un-issued in any format—the latter the last Christmas carol Sinatra recorded.

The album was released by Warner Music Group on October 26, 2004. It features 18 Christmas-themed tracks recorded by Sinatra from 1957 to 1991, including all the holiday tracks recorded by Sinatra during his years with the Reprise label. Two tracks previously un-issued on CD were featured on the album. They were renditions of "The Christmas Song" and "White Christmas", both duets recorded with Bing Crosby and the Nelson Riddle Orchestra from the 1957 ABC television special Happy Holidays with Bing and Frank, which aired only once, on December 20 of that year.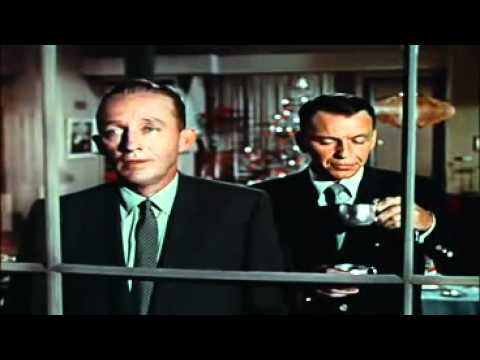 A fourth previously un-issued track included on the album was an acoustic recording of "Silent Night" recorded by Sinatra in 1991 with his son Frank Sinatra, Jr. at the piano, for a children's charity benefit. It was Sinatra
'

s last recorded Christmas carol.
The then-75-year-old Sinatra had not made any recordings for three years, and the track was not released at the time. For the original 2004 album release, the backing for the vocal was rearranged by former Sinatra collaborator Johnny Mandel using a group of former Sinatra backing musicians including pianist Bill Miller, guitarists Al Viola and Ron Anthony, bassists Chuck Berghofer and Jim Hughart and percussionist Larry Bunker, conducted by Sinatra Jr.
Of the recording, Sinatra Jr. said "The whole crew was there … So except for the absence of Frank Sinatra, it was a typical Sinatra recording date. We all expected he'd come walking in at any moment."
According to Sinatra Jr., it took two years for producer Charles Pignone to persuade Warner Bros. to finance the recording: "This is not the kind of music that people at record companies have interest in … They will spend millions, millions, to develop some inconsequential rock or rap group, but when Charles approached with a budget of some $30,000 to make a brand new Frank Sinatra song, there was great reluctance."
*