Homemade Limoncello Cake
By
An Italian In My Kitchen

Homemade Limoncello Cake is
the perfect dessert or perfect with a cup of tea or coffee.
A sprinkling of Powdered Sugar is all it needs.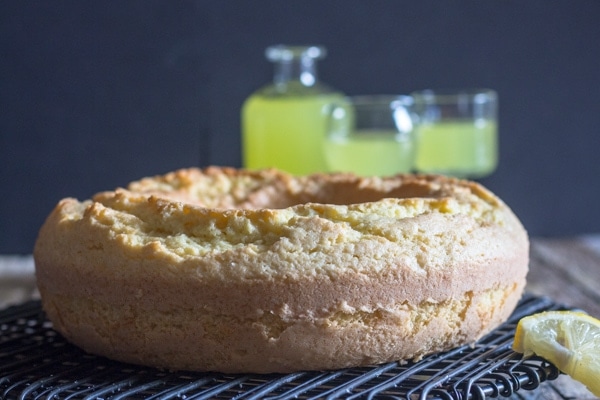 Ingredients
Prep Time
20
minutes
Cook Time
30
minutes
Total Time
50
minutes

Servings
10
servings
1 1/2cups all purpose flour (187.50 grams)

1 1/2 teaspoon baking powder

pinch salt

3 large eggs*

1 egg yolk*

1 1/2 cups + 2 tablespoons sugar (325 grams)

1/2 cup vegetable oil (I use corn oil) (100 grams)

1/4 cup + 2 tablespoons Limoncello* (72 grams)

zest 1 lemon*
*Ingredients should be room temperature, remove from fridge 45-60 minutes before using.
Instructions
Pre-heat oven to 350F (180C).  Grease and flour a 9 inch (23 cm) bundt pan or 8 inch (20 cm) cake pan.

In a medium bowl whisk together the flour, baking powder and salt.

In a medium bowl beat until stiff peaks appear the 3 egg whites.

In a large bowl beat the 4 yolks and sugar until light and creamy (about 3-5 minutes).  Then add the vegetable oil, limoncello and zest,  beat until smooth.

Stir the flour mixture into the yolk mixture and combine, then gently fold in the egg whites until combined.  Spoon into prepared cake pan. Bake for approximately 25-30 minutes or until toothpick comes out clean.  Let cool before dusting with powdered sugar.  Enjoy!