Insalata Di Rinforzo (Reinforcement Salad)
 

 Insalata Di Rinforzo (Reinforcement Salad)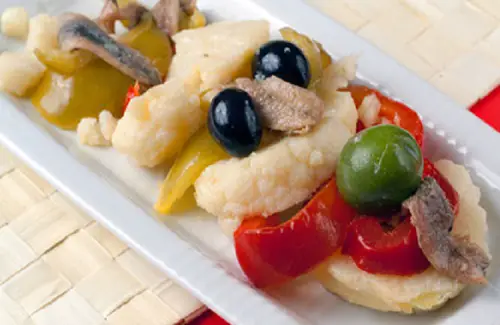 Ingredients
– 1 medium head cauliflower

– 1/2 cup green olives (Castelvetrano, Taggiasca/Liguria, Gordal or Manzanilla)

– 1/3 cup black olives (Gaeta, Nicoise or Kalamata)

– 8 anchovy fillets, rinsed

– 2 tablespoons capers, rinsed

– 1 cup pickled cherry peppers

– 2 tablespoons red wine vinegar

– 3 tablespoons extra virgin olive oil

– Salt
Directions
Fill a pot with water; set it over high heat and bring the water to a boil.

While waiting for the water to boil, clean the cauliflower, removing the stem and surrounding leaves. Cut the cauliflower into florets.

Stem and seed the cherry peppers, and then slice them into thin strips.

Place the cauliflower into the boiling water and cook for 5 – 8 minutes or until the florets become slightly tender. They should still have a bit of a crunch.

Once the florets are cooked, remove them from the water and place them in a salad bowl. Discard the water.

Add to the salad bowl the green olives, black olives, capers, anchovy fillets and sliced cherry peppers as well as the oil and vinegar. Toss the ingredients lightly to combine.

Add more oil and/or vinegar to the mix if you prefer and add salt to your taste.

You can serve the salad immediately or refrigerate it for an hour or two to incorporate all of the flavors.