Italian Anisette Cookies Written Recipe
Italian Anisette Cookies
Written Recipe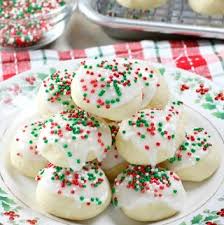 Everybody always loves these cookies.  Now you can make them and share them with the people you love.  Nothing says I love you more than a homemade cookie.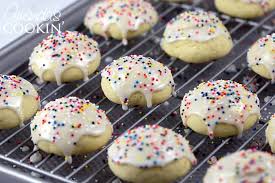 Ingredients
1/2 c. butter or margarine

1/4 c. shortening

3/4 c. granulated sugar

4 eggs

3 c. all-purpose flour

5 tsp. baking powder

1/2 tsp. salt

2 tsp. anise extract (can use vanilla or lemon extract instead)
 Glaze:
2 c. confectioners' sugar, sifted

2-4 Tbsp. milk
Directions
Melt butter and shortening together.

Add the sugar; mix well.

Add the eggs, one at a time, beating well after each addition.

Mix in the anise extract. Sift or whisk together flour, baking powder and salt.

Add to creamed mixture gradually. If the dough is too sticky to roll in the palm of your hand, add flour until firmer, but it should be very soft.

Roll dough in small balls (these tend to really puff up with all the baking powder in them!) and place on ungreased cookie sheets.

Bake @ 375 degrees for 8-10 minutes (the bottom should be lightly browned but the tops should remain light).

Remove cookies to wire rack and cool completely before glazing.
Glaze:
Mix milk GRADUALLY into confectioners' sugar to make a thick glaze… make sure to keep it on the thick side. Dip top of each cookie into glaze. Sprinkle with colored jimmies or nonpareils while glaze is still wet.

I usually dip 10-12 cookies, return them to the wire rack (with wax paper under the racks to aid in clean up!) and then sprinkle those cookies before starting to dip more.

Makes a lot of cookies, depending on how large you roll them. I usually roll the dough into 3/4″ balls-maybe a little bit smaller-I get about 100 cookies from one batch when I roll them this size.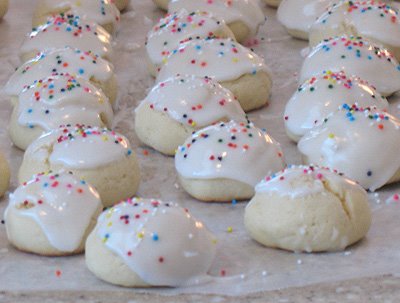 www.amandascookin.com