Italian London Broil
Italian London Broil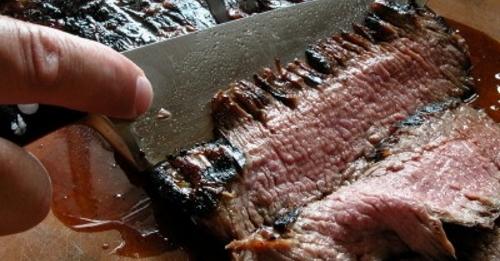 INGREDIENTS
3 pound flank steak, 2 inches thick

5 Tbls of extra virgin olive oil

1tsp of dried oregano

1 tsp of dried basil

1 tsp of dried marjoram

1 tsp of garlic powder

1 tsp of onion powder

1 yellow onion, sliced

1tsp of salt

1 tsp of fresh grated black pepper

2cloves of garlic, finely chopped

8 baby portabella mushrooms, sliced

6 roma tomatoes, skinned, seeded and chopped

1/2 cup of red wine

1 Tbls of butter

1/4 cup of fresh flat leaf parsley

PREPARATION

Prepare the meat by rubbing it with 3 Tbls. olive oil.

Mix together the oregano, basil, marjoram, garlic powder, onion powder, salt and pepper and rub the mixture all over both sides of the steak.

Place the meat in a plastic bag and refrigerate for 2 to 6 hours.

Prepare the grill.

Place the meat over the hot coals for 2 to3 minutes on each side.

Let the meat rest for at least 10 minutes before cutting.

In the meantime while the meat is resting, sauté the onions and garlic in the remaining olive oil for 2 minutes.

Add the mushrooms and sauté for another 2 to 3 minutes.

Add the chopped tomatoes and cook through until heated

Add the wine, turn up the heat and reduce.

Stir in the butter.

Cut the meat on the diagonal with the grain into 1/4 inch slices.

Plate the meat and top with the tomato mixture and parsley.

Serves 4 people.