Italian Red Wine Beef Stew with Creamy Mascarpone Polenta
Italian Red Wine Beef Stew with Creamy Mascarpone Polenta
By: Meredith Deeds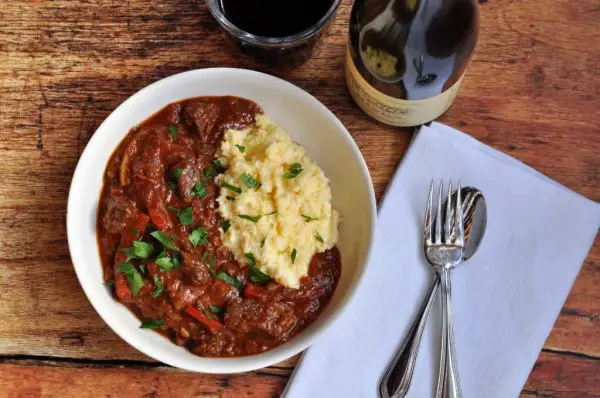 3 hours
6 Servings
stove
beginner
Beef stew is a classic comfort food we often take for granted. It seems simple and basic, chunks of tender beef swimming alongside a few vegetables, in a rich brown gravy. While it is easy to make, this Italian-inspired, red wine-infused version by James Beard nominated cookbook author Meredith Deeds, using our American Wagyu Steak Cuts, is anything but basic.
It starts with top quality American Wagyu beef, in this case bite-sized pieces of filet mignon, New York strip or ribeye steaks are seasoned and browned, before being stewed with pancetta, garlic, herbs and peppers.
The result is a rich, deeply beefy stew, served over ultra-creamy polenta. Every spoonful delivers the antidote to even the worst case of the winter blues.
Stew Making Tips:
>Start with the best beef. The American Wagyu Steak Cuts give your stew deep flavorful and an intense beefiness you won't get from supermarket beef.
>Season and flour the beef before browning to caramelize the exterior without overcooking.
>Brown the beef in batches to allow space for the liquid released by the beef to evaporate. Crowding all the meat in the pan at once means the beef will be swimming in liquid which prevents browning.
>Browning the beef is a critical for a flavorful stew but don't over-cook it. You're looking for browned, but not darkly browned, steak cuts.
Ingredients
Italian Red Wine Beef Stew

2 – 1 lb. packages Snake River Farms Steak Cuts Buy Now +

2 oz. pancetta, cut into 1/2-inch pieces

2 tablespoons vegetable oil

1 teaspoon kosher salt

1/4 cup all purpose flour

1/2 teaspoon freshly ground black pepper

1 medium yellow onion, coarsely chopped (about 1 cup)

4 medium cloves garlic, minced

2 tablespoons tomato paste

1 teaspoon dried oregano

1/2 teaspoon dried thyme

2 cups dry red wine

1 28-oz. can whole tomatoes, drained and chopped (discard juice)

2 red or yellow peppers, seeded and cut into matchsticks

3 tablespoons finely chopped parsley

Creamy Mascarpone Polenta

6 cups chicken broth, plus more if necessary

1/2 teaspoon kosher salt

1 1/2 cups coarsely ground cornmeal (polenta)

2 tablespoons unsalted butter

1/2 cup grated Parmigiano-Reggiano cheese

1/2 cup mascarpone cheese
Directions
Italian Red Wine Beef Stew
In a 5-quart Dutch oven, cook the pancetta in the oil over medium heat, stirring occasionally, until browned, 6 to 8 minutes. Using a slotted spoon, transfer to a paper-towel-lined plate and set aside. Do not wipe out the pan.

Dry the beef with paper towels and season with salt and pepper. Sprinkle flour over the steak cuts.

Heat the drippings in the Dutch oven over medium-high heat. Working in 2 batches, brown the meat. Each batch should take about 6 to 8 minutes to brown. Use a slotted spoon to transfer the beef to a large plate. Repeat with the rest of the beef. Once all of the beef is browned, remove the pot from the heat to let it cool for a few minutes.

Pour all but 1 tablespoon of the fat from the pot. (Add more fat if necessary). Return the pot to medium heat, then add the yellow onion. Cook, stirring often and scraping any brown bits off the bottom of the pot with a wooden spatula, until softened, 5 to 6 minutes. Stir in the garlic and tomato paste and cook, stirring occasionally, until the paste is a rusty red-brown, about 3 to 4 minutes. Add oregano and thyme and cook, stirring, for another 1 minute. Return the pancetta to the pot.

Add the wine, stirring with the wooden spatula to dissolve any browned bits on the bottom of the pot. Raise the heat to medium high and boil to reduce by about half, 5 to 8 minutes. Add the tomatoes and bring to a boil.

 

Return the beef and juices to the pot. Reduce heat to low and simmer, covered, stirring occasionally, for 1 1/2 to 2 hours, until the beef is tender. Add the peppers and cook for another 10 to 15 minutes, until the peppers are just tender. Taste and reseason with salt and pepper if necessary. Serve over Mascarpone Polenta and garnish with chopped parsley.