Italian sausage-stuffed peppers
Italian sausage-stuffed peppers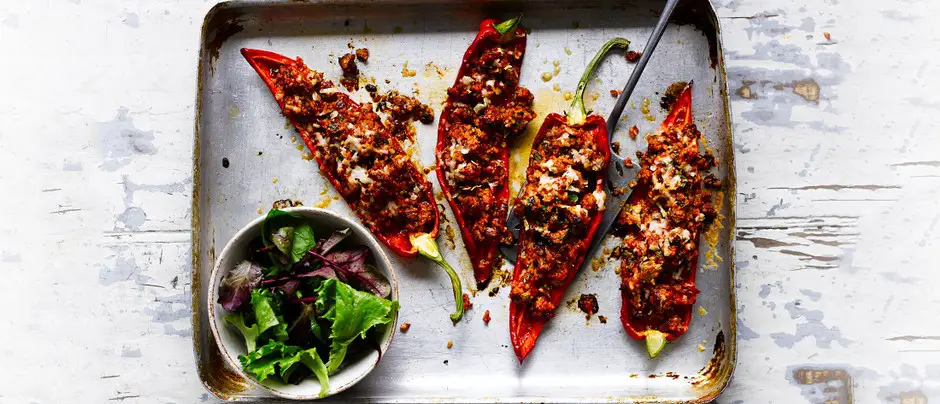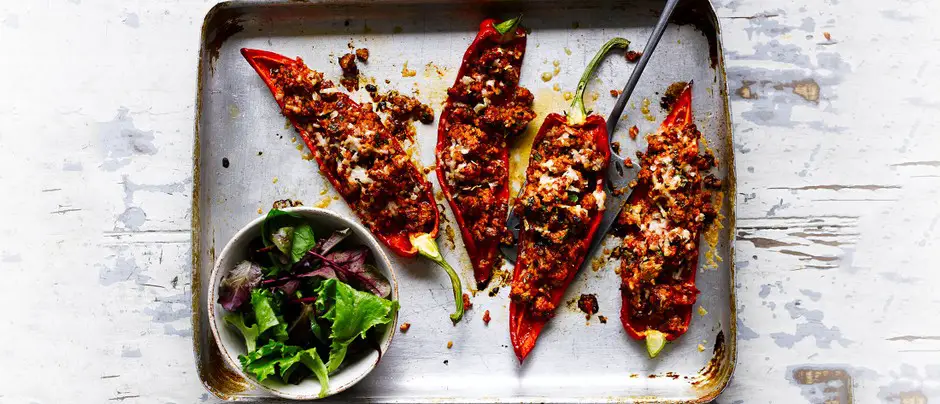 We love the bold flavor combinations in this recipe for Italian sausage-stuffed peppers. What makes it even better is that this dish can be made in under an hour – perfect for a comforting midweek meal.
. Ingredients
bulgar wheat 3 tbsp.
long romano red peppers 2, halved and seeded
olive oil
herby pork sausages 3, skins removed
garlic 1 clove, sliced
fennel seeds 1/2 tsp., crushed slightly
chilli flakes a pinch
cherry tomatoes 400g tin
flat leaf parsley 1/2 a small bunch
parmesan or grana padano 25g, finely grated
green salad to serve
Method
Put the bulgar wheat in a bowl and pour over boiling water. Leave for 10 minutes then drain really well.
Heat the oven to 200C/fan 180C/gas 6. Rub the peppers with a little oil, season then put on a baking tray. Cook for 15 minutes then take out.
Meanwhile heat 1 tbsp. olive oil in a non-stick pan. Break small pieces of sausage into the pan then cook until browned, breaking them up with a spatula as you cook so they are like chunky mince. Add the garlic and cook for a minute then add the spices and cook for another minute. Tip in the tomatoes and simmer for 20 minutes. Stir the parsley in with the bulgar wheat.
Fill the peppers with the sausage mix. Sprinkle over the parmesan then bake for another 10-15 minutes until golden and bubbling. Serve with a green salad.