Italian Sesame Seed Cookies – Written Recipe The DiMaggio Family
ITALIAN SESAME SEED COOKIES
Written Recipe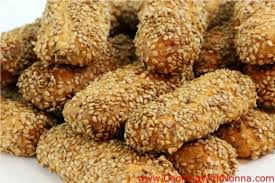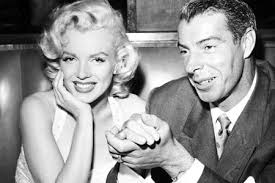 "GIUGIULENI"   (pronounced JuJulanie)
I called these "little loaves of bread" when I was a kid.
They are simply the best to dunk in a glass of milk.
My mother made these for us when we were kids,
Now my sister, Fran, makes them.
As we understand it Joe DiMaggio told the story above specifically about these cookies and his mother's recipe. Joe is not around these days to confirm but either way they are delicious.

Ingredients:
½ pound butter – softened

1 cup sugar

3 large eggs

1 teaspoon vanilla extract

Anise Flavoring/ extract

3 cups flour (may need to add more)

2 teaspoons baking powder

¼ teaspoon salt

Milk (for dipping, optional)

12-16 ounces Sesame Seeds (May be lightly toasted in oven, if desired, before using for cookies.)
PREPARATION:
Preheat oven to 425 degrees.

Cream together butter and sugar. Mix in eggs, vanilla, and a few drops of anise flavoring. Combine flour, baking powder and salt in a separate bowl. Gradually add dry ingredients to wet mixture to form a soft dough. Pinch off pieces of dough and roll them into small thumb size logs (about 1 ½ to 2 inches long and about ½ inch thick). You may want to flour hands before shaping cookies.

Put sesame seeds shallow bowl or plate. Roll cookie logs in sesame seeds to coat. (Optional: Pour milk and a few drops of anise flavoring in a shallow bowl. www.everybodylovesitalian.com Put sesame seeds in another shallow bowl or plate. Dip dough into milk and then roll them in sesame seeds to coat.)

Place on a greased or parchment covered cookie sheet about 1 inch apart. Then bake at 425 degrees for 10 – 15 minutes. Mine took longer. Keep peeking. Cool on racks. Can be frozen. Makes about 2 to 3 dozen.