Italian Street Food – OMG
Italian Street Food
OMG
The most notable Italian street food is pizza, sold in take-aways and bakeries. Take-away pizza (or pizza al taglio) is quite different from pizzeria pizza. Unlike the round pizza normally found in restaurants, which originated in Naples as a street food itself, it is generally baked on large square trays, and square or rectangular portions are sold. It usually has quite a thick base, again unlike the traditional Italian restaurant pizza.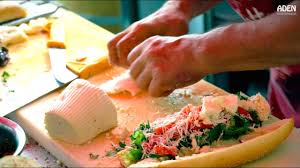 Toppings include margherita, mushrooms, Italian sausage, ham, and vegetables.
Other street foods are the Genoese focaccia di recco (a double layer of thin dough filled with quark cheese and baked); farinata (a thin, baked chickpea-flour batter, topped with salt, pepper and olive oil), which is often served with focaccia (a thin bread, also with salt and olive oil); Florentine trippa and lampredotto (ox stomach cooked in a seasoned broth and served in a bread roll); and Roman supplì; (rice balls filled with cheese and/or various fillings, covered in egg and breadcrumbs and deep fried), which is similar to Sicilian arancini, where the usual filling is a meat sauce with green peas.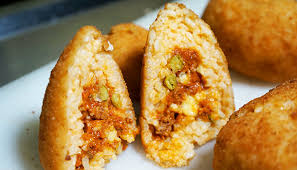 In Palermo, a street food would be Pani ca meusa (bread rolls with sliced, cooked pork spleen), and "panelle", deep-fried chickpea flour batter. In central Italy porchetta is common, which is a spicy roasted pork meat (from the whole, boned animal), usually served in a panino (bread roll).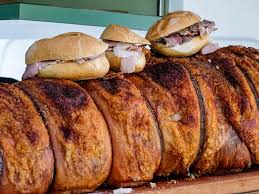 In Naples, fried food stalls, friggitorie, sell filled, deep-fried pastries and other foods. A street food made of offal, commonly found in fairs and religious festivals in Naples and in the whole of Campania, is the 'O pere e 'o musso("the paw and the muzzle"): calves' heads and pigs' feet are boiled, sliced and chopped, then seasoned with salt and lemon juice. This is also called musso re puorco ("pork muzzle"), although only calf heads are normally used.