Italian Style Braised Pork Chops
Italian Style Braised Pork Chops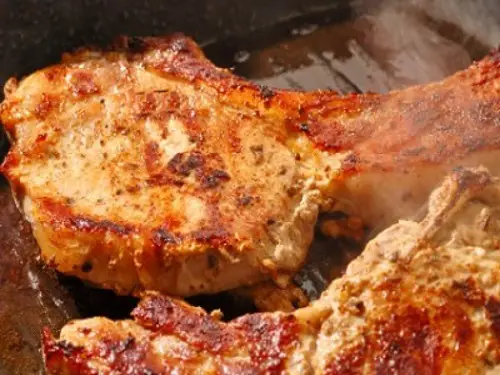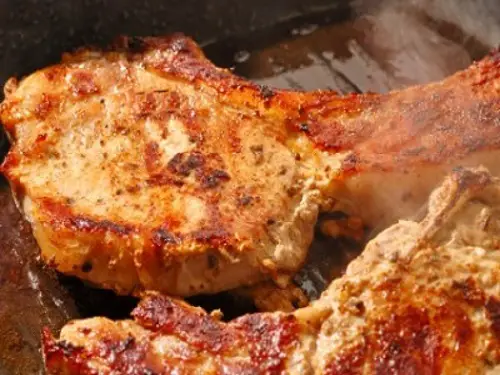 INGREDIENTS
4 pork chops on the bone

1/2 cup of flour

1 onion slice thin

1 green bell pepper sliced thin

1/2 cup of button mushrooms

1 15oz. can of diced tomatoes

3 cloves crushed garlic

1 tsp of oregano

1/4 extra virgin olive oil

1 tsp fresh ground black pepper

salt to taste

PREPARATION

Sprinkle chops with salt and pepper.

Dredge chops in flour.

Add garlic in olive oil for 2 minutes then remove from oil

Fry chops on both sides in oil until browned.

Add onions, sweet peppers and mushrooms for about 10 minutes.

Add diced undrained tomatoes and oregano and cover and let simmer for about an hour until nice and tender.

While the chops are cooking prepare polenta.

FRIED POLENTA

6 cups of water

2 cups of instant polenta

2 tbls. of butter

2 tbls. of olive oil

Salt and fresh ground pepper

Parmesan cheese

PREPARATION

Bring water to a boil and add polenta slowly.

Cook polenta while whisking constantly for about 10 minutes.

Remove from heat and add butter, salt and pepper.

Pour polenta in a greased baking dish and refrigerate until cool.

Cut polenta into 3 inch squares.

Fry polenta in olive oil on both sides until golden brown.

Place two squares on a dish and sprinkle with cheese.

Add chops and tomato mixture and eat the whole thing.