Traditional Sweet "Easter Bread" Video Recipe – Laura Vitale
Italian Sweet Easter Bread
Video Recipe
Laura Vitale
*
The Italians love to celebrate holidays with food and Easter is one of those special holidays. Easter is preceded by Lent, a time of fasting for many Christians. Come Easter Sunday, it is time to celebrate, splurge and indulge.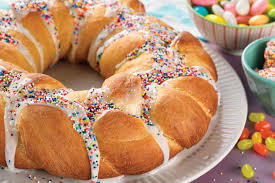 Eggs are often associated with Easter and are considered a symbol of birth and life. The tradition of giving eggs as gifts can be traced back to the Persians, who used to exchange eggs at the beginning of Spring, while the custom of decorating eggs was popular in ancient Egypt. The tradition of exchanging eggs for Easter, however, dates back to the Middle Ages, beginning in 837 AC, when it was prohibited to eat animal products during Lent. During the forty days prior to Easter, eggs were conserved and decorated.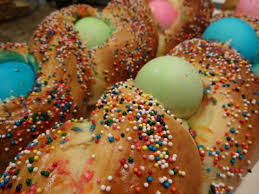 Beginning in the 12th century, the eggs were blessed and given to servants and children as part of a ritual called "Benedictio ovorum." This is where the tradition of exchanging Easter eggs all began, well before the arrival of chocolate in Europe. Originally, eggs were painted in various colors and given to children in the streets of Europe as an Easter present. The tradition of chocolate Easter eggs, probably, did not began until the 19th century.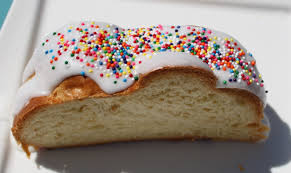 Bread is also an important part of any Easter celebration. Italian Easter Bread is rich with symbolism, baked in the shape of a wreath to symbolize the crown of thorns worn by Jesus Christ at the crucifixion. The three pieces of dough braided together represent the three elements of the Holy Trinity. The bread is either baked with colored eggs directly in the dough or with white eggs that can be decorated after baking.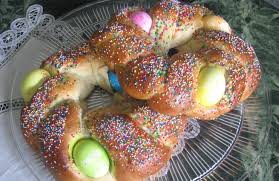 Several other Easter breads are shaped or decorated in ways that recall the Easter story. In northern Italy they make the Colomba Pasquale, a dove-shaped loaf, symbolizing hope. Likewise the cheese-enriched Italian Easter bread called, Crescia al Formaggio, forms a dome because it is baked in tall narrow pans that force the bread to rise in a dramatic dome shape. In Sicily, they make small Easter breads, called "pupi cu l'uova", that are shaped like dolls and have an egg in the center.
Italian Easter Bread 
Written Recipe by Jovina Cooks
Easter bread with colored eggs embedded in the dough.
3 cups all-purpose flour
1/4 cup sugar
1 package active dry yeast
1 teaspoon salt
2/3 cup warm milk (120 to 130 degrees F.)
2 tablespoons butter or margarine, softened
2 eggs
grated orange zest
1/4 cup chopped blanched almonds
1/2 teaspoon anise seeds
5 hard boiled eggs
vegetable oil
Glaze
1 cup confectioners' sugar, sifted
2 to 3 tablespoons orange juice
sprinkles or nonpareils, for decorating
 Directions:
In a mixing bowl, combine 1 cup flour, sugar, yeast and salt. Add milk and butter; beat 2 minutes on medium.
Add 2 eggs and 1/2 cup flour; beat 2 minutes on high. Stir in fruit, nuts and aniseed; mix well.
Stir in enough remaining flour to form a soft dough. Turn onto a lightly floured surface; knead until smooth and elastic, 6-8 minutes. Place in a greased bowl; turn once to grease top. Cover and let rise in a warm place until doubled, about 1 hour.
Dye the hard boiled eggs in Easter colors and lightly rub with oil.
Punch dough down. Divide in half; roll each piece into a 24-in. rope. Loosely twist ropes together to form a circle and tuck eggs into openings. Cover and let rise until doubled, about 30 minutes.
Bake at 350 degrees F. for 30-35 minutes or until golden brown. Remove from pan; cool on a wire rack.
Decorate with a glaze and sprinkles, if desired.